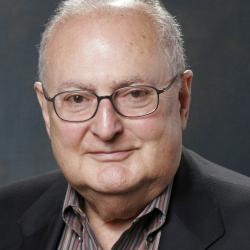 The Donald Harris Papers collection is now complete and available for research through University Archives.
The University Archives, a unit of University Libraries, received funding in late autumn 2013 from the Office of Academic Affairs (OAA) to process the collection of Donald Harris, composer, professor emeritus of the School of Music, and former dean of Ohio State's former College of the Arts.

Harris, an internationally recognized composer who lived in Paris from 1955 until 1968, donated his papers to the University Archives in 2010. The thirty boxes in the collection contain a wide variety of material including correspondence, musical scores, scrapbooks, and research files. The papers include letters to and from many important musicians of the 20th century, such as Elliott Carter, Nadia Boulanger, Milton Babbitt, Aaron Copland, Gunther Schuller and Ross Lee Finney, Harris' principal teacher and mentor.

According to Associate Professor Danielle Fosler-Lussier, Musicology, "This collection offers priceless evidence about musical life in Paris in the 1950s, as well as a detailed personal account of what it was like to be a young composer at a time when musical styles were hotly contested and changing rapidly." The collection also includes important papers and documents pertaining to Harris' varied administrative career as executive vice president of the New England Conservatory (1968-77), dean of the Hartt School of Music (1977-88) and dean of the Ohio State College of the Arts (1988-97).

Music alumnus Joseph Sferra (MM Composition, 2013) began work on the collection in January 2014. View completed collection descriptions.
Arts and Sciences News article