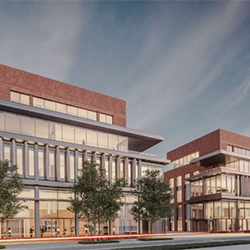 New renderings of Ohio State's planned Arts District — viewed by the Board of Trustees on May 30 at a meeting of the Master Planning and Facilities Committee — highlight a renovated Weigel Hall (home of the School of Music) and a new building for the Department of Theatre and Moving-Image Production major in the Film Studies Program. New performance spaces and high-tech classrooms are featured in both buildings; Weigel renovations will include new rehearsal spaces, modern recital halls and a central atrium.

The university is currently seeking approval to increase professional services and enter into construction contracts for the new district.

"These facilities, located centrally and prominently near the Oval, will anchor the university's ambitious new Arts District and reinforce our commitment to creative inquiry and performance," said Peter L. Hahn, dean of arts and humanities in the College of Arts and Sciences.
The Arts District is part of the long-term vision to open Ohio State's front door to the heart of the University District at 15th Avenue and High Street. Keith Myers, vice president of Planning, Architecture and Real Estate, stated, "We envision this district as a centerpiece for the campus, and a place for the community to come together to engage the arts."
Pending approval by the trustees, construction will begin in June and include work to enhance roadway and pedestrian access.

Full article and renderings at Arts and Sciences News.