Image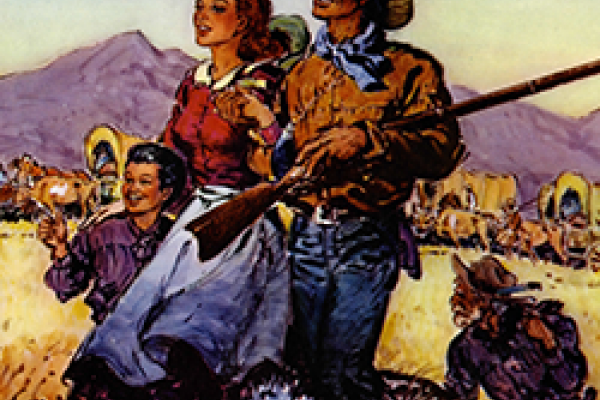 October 21, 2019
4:00PM - 5:30PM
Location
18th Ave. Library, 175 W. 18th, Room 205
Date Range
Add to Calendar
2019-10-21 16:00:00
2019-10-21 17:30:00
Lectures in Musicology: Jake Johnson, Oklahoma City University
Jake Johnson, Oklahoma City University, presents "Mormons, Musical Theater, and Belonging in America." This lecture is co-sponsored by the American Religious Sounds Project, the Center for the Study of Religion, and The Ohio State University Libraries. Mormons and musicals seemed to arrive together in 2011 with the Broadway hit Book of Mormon. Yet throughout the nineteenth and twentieth centuries, Mormons used the theatrical and vocal qualities of the musical stage to help carve out an accepted place in American culture. Lured by the genre's association with whiteness and middle-class values, Mormons gravitated toward musicals as a common platform for transmitting mainline political and theological ideas. In the process, Mormons shirked the callous ethnic identity cast upon them by outsiders and discovered that the act of sounding white could be met with a chorus of belonging. From the plains to the Rocky Mountains to the islands of Hawaii and finally to the Great White Way itself, Mormonism's theatrical path toward belonging in America offers a compelling example of how new ways of sounding create possibilities for other ways of living. Combining these two iconic American institutions into a single lens likewise affords a powerful framework to study how people discipline their voices to craft a meaningful identity as Americans, and asks what that identity means if built upon a pretense of sounding like someone they are not. As a scholar of American music and culture, Jake Johnson studies the ways communities throughout the country use music, sound and voice to perform an American identity. He is an assistant professor of musicology at Oklahoma City University's Wanda L. Bass School of Music, where he also works as a vocal coach and musical director. Jake is the author of Mormons, Musical Theater, and Belonging in America and is finishing a second book about musicals, deception and the American Midwest. Lectures in Musicology is co-sponsored by The Ohio State University Libraries. Lectures are held Mondays at 4 p.m. in the 18th Avenue Library, 175 W. 18th Ave. (Music/Dance Library, second floor, room 205). These events are free and open to the public. Campus visitors, please use either the Tuttle Park Place Garage or the Ohio Union South Garage. All other garages in the vicinity of the 18th Ave. Library are closed to visitors before 4 p.m. Musicology Events  
18th Ave. Library, 175 W. 18th, Room 205
OSU ASC Drupal 8
ascwebservices@osu.edu
America/New_York
public
Date Range
Add to Calendar
2019-10-21 16:00:00
2019-10-21 17:30:00
Lectures in Musicology: Jake Johnson, Oklahoma City University
Jake Johnson, Oklahoma City University, presents "Mormons, Musical Theater, and Belonging in America." This lecture is co-sponsored by the American Religious Sounds Project, the Center for the Study of Religion, and The Ohio State University Libraries. Mormons and musicals seemed to arrive together in 2011 with the Broadway hit Book of Mormon. Yet throughout the nineteenth and twentieth centuries, Mormons used the theatrical and vocal qualities of the musical stage to help carve out an accepted place in American culture. Lured by the genre's association with whiteness and middle-class values, Mormons gravitated toward musicals as a common platform for transmitting mainline political and theological ideas. In the process, Mormons shirked the callous ethnic identity cast upon them by outsiders and discovered that the act of sounding white could be met with a chorus of belonging. From the plains to the Rocky Mountains to the islands of Hawaii and finally to the Great White Way itself, Mormonism's theatrical path toward belonging in America offers a compelling example of how new ways of sounding create possibilities for other ways of living. Combining these two iconic American institutions into a single lens likewise affords a powerful framework to study how people discipline their voices to craft a meaningful identity as Americans, and asks what that identity means if built upon a pretense of sounding like someone they are not. As a scholar of American music and culture, Jake Johnson studies the ways communities throughout the country use music, sound and voice to perform an American identity. He is an assistant professor of musicology at Oklahoma City University's Wanda L. Bass School of Music, where he also works as a vocal coach and musical director. Jake is the author of Mormons, Musical Theater, and Belonging in America and is finishing a second book about musicals, deception and the American Midwest. Lectures in Musicology is co-sponsored by The Ohio State University Libraries. Lectures are held Mondays at 4 p.m. in the 18th Avenue Library, 175 W. 18th Ave. (Music/Dance Library, second floor, room 205). These events are free and open to the public. Campus visitors, please use either the Tuttle Park Place Garage or the Ohio Union South Garage. All other garages in the vicinity of the 18th Ave. Library are closed to visitors before 4 p.m. Musicology Events  
18th Ave. Library, 175 W. 18th, Room 205
School of Music
music@osu.edu
America/New_York
public
Description
Jake Johnson, Oklahoma City University, presents "Mormons, Musical Theater, and Belonging in America." This lecture is co-sponsored by the American Religious Sounds Project, the Center for the Study of Religion, and The Ohio State University Libraries.

Mormons and musicals seemed to arrive together in 2011 with the Broadway hit Book of Mormon. Yet throughout the nineteenth and twentieth centuries, Mormons used the theatrical and vocal qualities of the musical stage to help carve out an accepted place in American culture. Lured by the genre's association with whiteness and middle-class values, Mormons gravitated toward musicals as a common platform for transmitting mainline political and theological ideas. In the process, Mormons shirked the callous ethnic identity cast upon them by outsiders and discovered that the act of sounding white could be met with a chorus of belonging.

From the plains to the Rocky Mountains to the islands of Hawaii and finally to the Great White Way itself, Mormonism's theatrical path toward belonging in America offers a compelling example of how new ways of sounding create possibilities for other ways of living. Combining these two iconic American institutions into a single lens likewise affords a powerful framework to study how people discipline their voices to craft a meaningful identity as Americans, and asks what that identity means if built upon a pretense of sounding like someone they are not.


As a scholar of American music and culture,
Jake Johnson
studies the ways communities throughout the country use music, sound and voice to perform an American identity. He is an assistant professor of musicology at Oklahoma City University's Wanda L. Bass School of Music, where he also works as a vocal coach and musical director. Jake is the author of
Mormons, Musical Theater, and Belonging in America
and is finishing a second book about musicals, deception and the American Midwest.
---

Lectures in Musicology is co-sponsored by The Ohio State University Libraries.
Lectures are held Mondays at 4 p.m. in the 18th Avenue Library, 175 W. 18th Ave. (Music/Dance Library, second floor, room 205). These events are free and open to the public.
Campus visitors, please use either the Tuttle Park Place Garage or the Ohio Union South Garage. All other garages in the vicinity of the 18th Ave. Library are closed to visitors before 4 p.m.
Events Filters:
---