Monday, March 1, 2021 - 4:00pm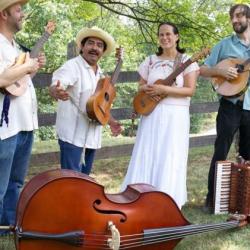 A virtual lecture entitled "Latinx-Appalachian Migration Narratives, Borders, and Belonging in the Blue Ridge" will be presented via Zoom by Sophia Enriquez, The Ohio State University.
As Latinx communities in Appalachia and the U.S. South continue to grow and expand, so does their musical footprint across the region. Latinx-Appalachian communities rely on music, art and dance as ways to respond to the complexities of their shifting social and political circumstances and concerns. The Lua Project — a music collective based in Charlottesville, Virginia — offers new perspectives of what it means to be Latinx in Appalachia with their Mexican-Appalachian fused or "Mexilachian" music. Drawing on ethnographic field research from 2018–2020, this talk shows how Latinx-Appalachian artists such as the Lua Project cultivate a sense of belonging in Appalachia via extensive translocal musical networks across Appalachia and Latin America. Listening to these networks reveal the untold migration narratives, ways of thinking about borders, and musical axes that connect Latinx and Appalachian experiences. This talk ultimately suggests that the emergent Mexilachian repertoire of the Lua Project helps us make sense of the entanglements of the current moment by weaving together seemingly disparate threads of music and belonging.
Registrants will receive an email with the Zoom meeting link.
If you require an accommodation to participate in this meeting, please email the event host, Dr. Danielle Fosler-Lussier (fosler-lussier.2@osu.edu). Requests made two weeks before an event will generally allow us to provide seamless access, but the university will make every effort to meet all requests.
Visit Musicology Events

---
Sophia Enriquez is a PhD candidate in ethnomusicology at The Ohio State University. Her work explores the intersections of Latinx and Appalachian music traditions and how Latinx communities in Appalachia make sense of their experiences through music. Her work has been presented at the national conferences of the Society for Ethnomusicology, Society of American Music, Appalachian Studies Association, and the American Folklore Society. Sophia also holds graduate certificates in Women's, Gender & Sexuality Studies and Folklore, and has worked closely with the Center for Folklore studies on a variety of public folklore projects.