Image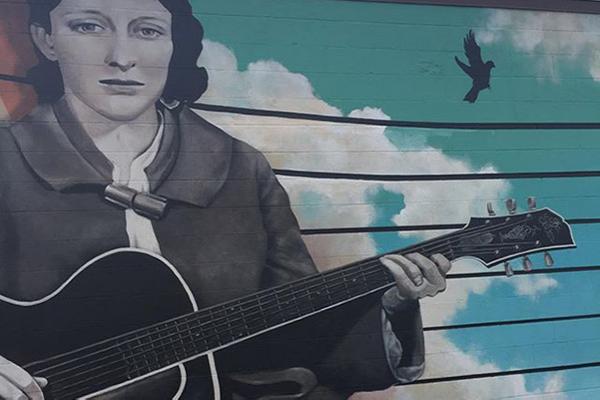 September 27, 2021
4:00PM - 5:30PM
Location
ONLINE (Registration required)
Date Range
Add to Calendar
2021-09-27 16:00:00
2021-09-27 17:30:00
Lectures in Musicology: Rachel Skaggs, Ohio State
Guest lecturer Rachel Skaggs (Arts Administration, Education and Policy, Ohio State), presents a virtual lecture, "Writing Songs You Don't Much Like: Collective Attribution, Field Spanning, and Rationalizing Artistic Risk in Country Music," at 4 p.m. Eastern time. This talk will the answer the question of why songwriters write songs that diverge from their personal tastes. Theoretically, this will support the argument that collective attribution and networked opportunities rationalize the artistic risk to one's status that comes with writing highly marketable songs with little artistic merit. Interview data show that songwriters write songs that they don't like for economic reasons. To do so, they must build and maintain social ties to others who write songs along current trend lines. They are able to do this because they are working in a community wherein status is segmented for songs but not for songwriters. Rachel Skaggs introduces the term "field spanning" to discuss how status works in an art world that is aligned to the heteronomous pole. Quantitative data show that country songs fit the Bourdieusian model (typically songs attain status only on one dimension of success) while the songwriter can attain status along multiple dimensions of success. Shared attribution keeps songwriters from losing status for writing a song like "She Thinks My Tractor's Sexy" or "Truck Yeah." This talk will then use the field-spanning argument to move forward in explaining how songwriters keep up with new trends in distinctly social ways, leading them to bring new songwriters into the community. This relational strategy can also result in having to write music that they don't much like. Denying one's own artistic sensibility, or at least being thematically malleable in a co-writing situation, can be the difference in maintaining a career or fading into dated obscurity. REGISTER TODAY Registrants will receive an email with the Zoom meeting link. If you require an accommodation to participate in this meeting, please email the event host, Dr. Ryan Skinner (skinner.176@osu.edu). Requests made two weeks before an event will generally allow us to provide seamless access, but the university will make every effort to meet all requests. Rachel Skaggs is the Lawrence and Isabel Barnett Assistant Professor of Arts Management. Dr. Skaggs completed her PhD in sociology at Vanderbilt University where she was a fellow at the Curb Center for Art, Enterprise and Public Policy. Her research focuses on how workers in post-bureaucratic employment situations (freelance, project-based, self-employment, and other forms of free agency) are able to craft careers out of a series of self-directed projects and jobs, particularly in creative industries. She is especially interested in how workers in these situations collaborate and cooperate along the way. Dr. Skaggs' research has focused on topics such as the importance of social networks in music industry careers, arts entrepreneurship, how artists learn to deal with rejection and failure, and the public perceptions of artists in local communities. This work has been published in sociological and arts-focused venues such as Poetics, Social Psychology Quarterly, Work and Occupations, Artivate: A Journal of Entrepreneurship in the Arts, and The Journal of Arts Management, Law, and Society. Visit Musicology Events
ONLINE (Registration required)
OSU ASC Drupal 8
ascwebservices@osu.edu
America/New_York
public
Date Range
Add to Calendar
2021-09-27 16:00:00
2021-09-27 17:30:00
Lectures in Musicology: Rachel Skaggs, Ohio State
Guest lecturer Rachel Skaggs (Arts Administration, Education and Policy, Ohio State), presents a virtual lecture, "Writing Songs You Don't Much Like: Collective Attribution, Field Spanning, and Rationalizing Artistic Risk in Country Music," at 4 p.m. Eastern time. This talk will the answer the question of why songwriters write songs that diverge from their personal tastes. Theoretically, this will support the argument that collective attribution and networked opportunities rationalize the artistic risk to one's status that comes with writing highly marketable songs with little artistic merit. Interview data show that songwriters write songs that they don't like for economic reasons. To do so, they must build and maintain social ties to others who write songs along current trend lines. They are able to do this because they are working in a community wherein status is segmented for songs but not for songwriters. Rachel Skaggs introduces the term "field spanning" to discuss how status works in an art world that is aligned to the heteronomous pole. Quantitative data show that country songs fit the Bourdieusian model (typically songs attain status only on one dimension of success) while the songwriter can attain status along multiple dimensions of success. Shared attribution keeps songwriters from losing status for writing a song like "She Thinks My Tractor's Sexy" or "Truck Yeah." This talk will then use the field-spanning argument to move forward in explaining how songwriters keep up with new trends in distinctly social ways, leading them to bring new songwriters into the community. This relational strategy can also result in having to write music that they don't much like. Denying one's own artistic sensibility, or at least being thematically malleable in a co-writing situation, can be the difference in maintaining a career or fading into dated obscurity. REGISTER TODAY Registrants will receive an email with the Zoom meeting link. If you require an accommodation to participate in this meeting, please email the event host, Dr. Ryan Skinner (skinner.176@osu.edu). Requests made two weeks before an event will generally allow us to provide seamless access, but the university will make every effort to meet all requests. Rachel Skaggs is the Lawrence and Isabel Barnett Assistant Professor of Arts Management. Dr. Skaggs completed her PhD in sociology at Vanderbilt University where she was a fellow at the Curb Center for Art, Enterprise and Public Policy. Her research focuses on how workers in post-bureaucratic employment situations (freelance, project-based, self-employment, and other forms of free agency) are able to craft careers out of a series of self-directed projects and jobs, particularly in creative industries. She is especially interested in how workers in these situations collaborate and cooperate along the way. Dr. Skaggs' research has focused on topics such as the importance of social networks in music industry careers, arts entrepreneurship, how artists learn to deal with rejection and failure, and the public perceptions of artists in local communities. This work has been published in sociological and arts-focused venues such as Poetics, Social Psychology Quarterly, Work and Occupations, Artivate: A Journal of Entrepreneurship in the Arts, and The Journal of Arts Management, Law, and Society. Visit Musicology Events
ONLINE (Registration required)
School of Music
music@osu.edu
America/New_York
public
Description
Guest lecturer Rachel Skaggs (Arts Administration, Education and Policy, Ohio State), presents a virtual lecture, "Writing Songs You Don't Much Like: Collective Attribution, Field Spanning, and Rationalizing Artistic Risk in Country Music," at 4 p.m. Eastern time.
This talk will the answer the question of why songwriters write songs that diverge from their personal tastes. Theoretically, this will support the argument that collective attribution and networked opportunities rationalize the artistic risk to one's status that comes with writing highly marketable songs with little artistic merit. Interview data show that songwriters write songs that they don't like for economic reasons. To do so, they must build and maintain social ties to others who write songs along current trend lines. They are able to do this because they are working in a community wherein status is segmented for songs but not for songwriters. Rachel Skaggs introduces the term "field spanning" to discuss how status works in an art world that is aligned to the heteronomous pole. Quantitative data show that country songs fit the Bourdieusian model (typically songs attain status only on one dimension of success) while the songwriter can attain status along multiple dimensions of success. Shared attribution keeps songwriters from losing status for writing a song like "She Thinks My Tractor's Sexy" or "Truck Yeah." This talk will then use the field-spanning argument to move forward in explaining how songwriters keep up with new trends in distinctly social ways, leading them to bring new songwriters into the community. This relational strategy can also result in having to write music that they don't much like. Denying one's own artistic sensibility, or at least being thematically malleable in a co-writing situation, can be the difference in maintaining a career or fading into dated obscurity.
Registrants will receive an email with the Zoom meeting link.
If you require an accommodation to participate in this meeting, please email the event host, Dr. Ryan Skinner (skinner.176@osu.edu). Requests made two weeks before an event will generally allow us to provide seamless access, but the university will make every effort to meet all requests.
Rachel Skaggs is the Lawrence and Isabel Barnett Assistant Professor of Arts Management. Dr. Skaggs completed her PhD in sociology at Vanderbilt University where she was a fellow at the Curb Center for Art, Enterprise and Public Policy. Her research focuses on how workers in post-bureaucratic employment situations (freelance, project-based, self-employment, and other forms of free agency) are able to craft careers out of a series of self-directed projects and jobs, particularly in creative industries. She is especially interested in how workers in these situations collaborate and cooperate along the way. Dr. Skaggs' research has focused on topics such as the importance of social networks in music industry careers, arts entrepreneurship, how artists learn to deal with rejection and failure, and the public perceptions of artists in local communities. This work has been published in sociological and arts-focused venues such as Poetics, Social Psychology Quarterly, Work and Occupations, Artivate: A Journal of Entrepreneurship in the Arts, and The Journal of Arts Management, Law, and Society.
Visit Musicology Events
Events Filters:
---