Image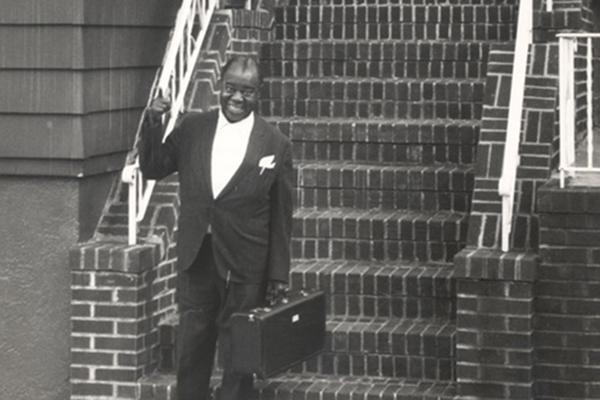 November 28, 2022
4:00PM - 5:30PM
Location
18th Ave. Library, 175 W. 18th, Room 205
Date Range
Add to Calendar
2022-11-28 16:00:00
2022-11-28 17:30:00
Lectures in Musicology: Michael Heller, University of Pittsburgh
Michael Heller, associate professor of music, University of Pittsburgh, presents "Deploying Deadness at Louis Armstrong's House." This lecture will be offered in hybrid format. Online registration to attend virtually is required via the link below. Co-sponsored by the Department of Music at Denison University and The Ohio State University Libraries. From 1943 until his death in 1971, jazz pioneer Louis Armstrong lived in a modest two-story home tucked into the suburban neighborhood of Corona, Queens, New York. One of his private hobbies at the time was working as amateur recordist, an interest which led to his  recording over 650 reels of private audio tapes. Though these tapes sometimes contain performances or rehearsals, the bulk of them present Armstrong away from the stage, relaxing and conversing with friends in the privacy of his Corona home. Forty years after his death, these artifacts remain a key component of the Louis Armstrong House Museum, a national landmark that offers a glimpse into the offstage life of the jazz icon. Sprinkled throughout a forty-minute guided tour, visitors are presented with a series of strategically-placed excerpts of Armstrong's voice, played back in the very same rooms in which they were recorded. According to museum docents, this re-grafting of Armstrong's sonic presence into the physical space of the home often evokes powerful responses from visitors, including laughter, discomfort and occasional weeping. REGISTER FOR ZOOM Registrants will receive an email with the Zoom meeting link. If you require an accommodation to participate in this meeting, please email the event host, Dr. Ryan Skinner (skinner.176@osu.edu). Requests made two weeks before an event will generally allow us to provide seamless access, but the university will make every effort to meet all requests. This presentation considers the sonic and affective mechanisms underlying this unique case study in audile curation. Drawing from the author's experience as a tour guide at the museum in 2005–2006, the talk proposes that visitor reactions are not prompted by the audio alone, but by a complex combination of factors including the resonance of Armstrong's voice, the spaces of the house itself, conceptions of sacred or consecrated space, and various narrative priming mechanisms embedded in the tour script. The speaker argues that the recordings can be understood as evoking a process that he refers to as "anti-schizophonia," an acousmatic (but not schizophonic) phenomenon based around creating the impossible impression of returning recorded sound to its point of origin. This technique is used to stage a form of haunting that relies on interpenetrations of sound and space, as well as the resurrection of dead labor that has been referred to under the rubric of "deadness." The talk will be structured as a narrative soundwalk, that raises various conceptual issues while following the spatial progression of the house tour itself. Michael C. Heller is a musicologist, jazz historian and associate professor of music at the University of Pittsburgh, where he is a core faculty member in the jazz studies PhD program. His research focuses on the post-1960s avant garde, musician-organized collectives, sound studies, and archival theory. His first monograph Loft Jazz: Improvising New York in the 1970s (University of California Press) received the 2016 H. Earle Johnson Publication Subvention from the Society for American Music, and was named one of the five best jazz books of 2017 by the New York City Jazz Record. Dr. Heller has published additional research and reviews in Jazz Research Journal, Sound Studies: An Interdisciplinary Journal, Jazz Perspectives, and the Journal of the American Musicological Society. Since 2018, he has served as the founding editor-in-chief of Jazz and Culture, a premier interdisciplinary journal of jazz and related arts. He is currently completing a collection of sound studies essays titled Just Beyond Listening: Essays of Sonic Encounter (under contract, University of California Press), and is collaborating with percussionist Juma Sultan to co-write Sultan's autobiography. Lectures in Musicology is co-sponsored by The Ohio State University Libraries. Lectures are held Mondays at 4 p.m. in the 18th Avenue Library, 175 W. 18th Ave. (Music/Dance Library, second floor, room 205). These events are free and open to the public. Campus visitors, please use either the Tuttle Park Place Garage or the Ohio Union South Garage. All other garages in the vicinity of the 18th Ave. Library are closed to visitors before 4 p.m. Driving and Parking Instructions All events are subject to change. Musicology Events
18th Ave. Library, 175 W. 18th, Room 205
OSU ASC Drupal 8
ascwebservices@osu.edu
America/New_York
public
Date Range
Add to Calendar
2022-11-28 16:00:00
2022-11-28 17:30:00
Lectures in Musicology: Michael Heller, University of Pittsburgh
Michael Heller, associate professor of music, University of Pittsburgh, presents "Deploying Deadness at Louis Armstrong's House." This lecture will be offered in hybrid format. Online registration to attend virtually is required via the link below. Co-sponsored by the Department of Music at Denison University and The Ohio State University Libraries. From 1943 until his death in 1971, jazz pioneer Louis Armstrong lived in a modest two-story home tucked into the suburban neighborhood of Corona, Queens, New York. One of his private hobbies at the time was working as amateur recordist, an interest which led to his  recording over 650 reels of private audio tapes. Though these tapes sometimes contain performances or rehearsals, the bulk of them present Armstrong away from the stage, relaxing and conversing with friends in the privacy of his Corona home. Forty years after his death, these artifacts remain a key component of the Louis Armstrong House Museum, a national landmark that offers a glimpse into the offstage life of the jazz icon. Sprinkled throughout a forty-minute guided tour, visitors are presented with a series of strategically-placed excerpts of Armstrong's voice, played back in the very same rooms in which they were recorded. According to museum docents, this re-grafting of Armstrong's sonic presence into the physical space of the home often evokes powerful responses from visitors, including laughter, discomfort and occasional weeping. REGISTER FOR ZOOM Registrants will receive an email with the Zoom meeting link. If you require an accommodation to participate in this meeting, please email the event host, Dr. Ryan Skinner (skinner.176@osu.edu). Requests made two weeks before an event will generally allow us to provide seamless access, but the university will make every effort to meet all requests. This presentation considers the sonic and affective mechanisms underlying this unique case study in audile curation. Drawing from the author's experience as a tour guide at the museum in 2005–2006, the talk proposes that visitor reactions are not prompted by the audio alone, but by a complex combination of factors including the resonance of Armstrong's voice, the spaces of the house itself, conceptions of sacred or consecrated space, and various narrative priming mechanisms embedded in the tour script. The speaker argues that the recordings can be understood as evoking a process that he refers to as "anti-schizophonia," an acousmatic (but not schizophonic) phenomenon based around creating the impossible impression of returning recorded sound to its point of origin. This technique is used to stage a form of haunting that relies on interpenetrations of sound and space, as well as the resurrection of dead labor that has been referred to under the rubric of "deadness." The talk will be structured as a narrative soundwalk, that raises various conceptual issues while following the spatial progression of the house tour itself. Michael C. Heller is a musicologist, jazz historian and associate professor of music at the University of Pittsburgh, where he is a core faculty member in the jazz studies PhD program. His research focuses on the post-1960s avant garde, musician-organized collectives, sound studies, and archival theory. His first monograph Loft Jazz: Improvising New York in the 1970s (University of California Press) received the 2016 H. Earle Johnson Publication Subvention from the Society for American Music, and was named one of the five best jazz books of 2017 by the New York City Jazz Record. Dr. Heller has published additional research and reviews in Jazz Research Journal, Sound Studies: An Interdisciplinary Journal, Jazz Perspectives, and the Journal of the American Musicological Society. Since 2018, he has served as the founding editor-in-chief of Jazz and Culture, a premier interdisciplinary journal of jazz and related arts. He is currently completing a collection of sound studies essays titled Just Beyond Listening: Essays of Sonic Encounter (under contract, University of California Press), and is collaborating with percussionist Juma Sultan to co-write Sultan's autobiography. Lectures in Musicology is co-sponsored by The Ohio State University Libraries. Lectures are held Mondays at 4 p.m. in the 18th Avenue Library, 175 W. 18th Ave. (Music/Dance Library, second floor, room 205). These events are free and open to the public. Campus visitors, please use either the Tuttle Park Place Garage or the Ohio Union South Garage. All other garages in the vicinity of the 18th Ave. Library are closed to visitors before 4 p.m. Driving and Parking Instructions All events are subject to change. Musicology Events
18th Ave. Library, 175 W. 18th, Room 205
School of Music
music@osu.edu
America/New_York
public
Description
Michael Heller, associate professor of music, University of Pittsburgh, presents "Deploying Deadness at Louis Armstrong's House." This lecture will be offered in hybrid format. Online registration to attend virtually is required via the link below. Co-sponsored by the Department of Music at Denison University and The Ohio State University Libraries.
From 1943 until his death in 1971, jazz pioneer Louis Armstrong lived in a modest two-story home tucked into the suburban neighborhood of Corona, Queens, New York. One of his private hobbies at the time was working as amateur recordist, an interest which led to his  recording over 650 reels of private audio tapes. Though these tapes sometimes contain performances or rehearsals, the bulk of them present Armstrong away from the stage, relaxing and conversing with friends in the privacy of his Corona home. Forty years after his death, these artifacts remain a key component of the Louis Armstrong House Museum, a national landmark that offers a glimpse into the offstage life of the jazz icon. Sprinkled throughout a forty-minute guided tour, visitors are presented with a series of strategically-placed excerpts of Armstrong's voice, played back in the very same rooms in which they were recorded. According to museum docents, this re-grafting of Armstrong's sonic presence into the physical space of the home often evokes powerful responses from visitors, including laughter, discomfort and occasional weeping.
Registrants will receive an email with the Zoom meeting link.
If you require an accommodation to participate in this meeting, please email the event host, Dr. Ryan Skinner (skinner.176@osu.edu). Requests made two weeks before an event will generally allow us to provide seamless access, but the university will make every effort to meet all requests.
This presentation considers the sonic and affective mechanisms underlying this unique case study in audile curation. Drawing from the author's experience as a tour guide at the museum in 2005–2006, the talk proposes that visitor reactions are not prompted by the audio alone, but by a complex combination of factors including the resonance of Armstrong's voice, the spaces of the house itself, conceptions of sacred or consecrated space, and various narrative priming mechanisms embedded in the tour script. The speaker argues that the recordings can be understood as evoking a process that he refers to as "anti-schizophonia," an acousmatic (but not schizophonic) phenomenon based around creating the impossible impression of returning recorded sound to its point of origin. This technique is used to stage a form of haunting that relies on interpenetrations of sound and space, as well as the resurrection of dead labor that has been referred to under the rubric of "deadness."
The talk will be structured as a narrative soundwalk, that raises various conceptual issues while following the spatial progression of the house tour itself.
Michael C. Heller is a musicologist, jazz historian and associate professor of music at the University of Pittsburgh, where he is a core faculty member in the jazz studies PhD program. His research focuses on the post-1960s avant garde, musician-organized collectives, sound studies, and archival theory. His first monograph Loft Jazz: Improvising New York in the 1970s (University of California Press) received the 2016 H. Earle Johnson Publication Subvention from the Society for American Music, and was named one of the five best jazz books of 2017 by the New York City Jazz Record. Dr. Heller has published additional research and reviews in Jazz Research Journal, Sound Studies: An Interdisciplinary Journal, Jazz Perspectives, and the Journal of the American Musicological Society. Since 2018, he has served as the founding editor-in-chief of Jazz and Culture, a premier interdisciplinary journal of jazz and related arts. He is currently completing a collection of sound studies essays titled Just Beyond Listening: Essays of Sonic Encounter (under contract, University of California Press), and is collaborating with percussionist Juma Sultan to co-write Sultan's autobiography.
---
Lectures in Musicology is co-sponsored by The Ohio State University Libraries.
Lectures are held Mondays at 4 p.m. in the 18th Avenue Library, 175 W. 18th Ave. (Music/Dance Library, second floor, room 205). These events are free and open to the public. Campus visitors, please use either the Tuttle Park Place Garage or the Ohio Union South Garage. All other garages in the vicinity of the 18th Ave. Library are closed to visitors before 4 p.m.
All events are subject to change.
Events Filters:
---