Image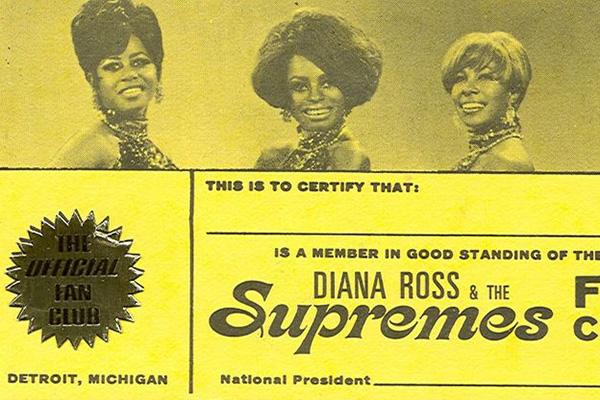 March 20, 2023
4:00PM - 5:30PM
Location
18th Ave. Library, 175 W. 18th, Rm. 205
Date Range
Add to Calendar
2023-03-20 16:00:00
2023-03-20 17:30:00
Lectures in Musicology: Elena Cruz-López, Ohio State
Elena Cruz-López, PhD candidate in musicology at Ohio State, presents "Fans' Histories as Part of the Supremes' Story." This lecture is co-sponsored by The Ohio State University Libraries. The Supremes were one of the most successful girl groups in the 1960s, a result of Motown Records' successful marketing strategies. At the same time, the group amassed a large fan base of Baby Boomers that continued to support the group after the sixties by listening to their music, attending concerts and ensuring the Supremes were recognized by an institution such as the Rock and Roll Hall of Fame, among other fan activities. Oftentimes, Motown literature addresses the company's success from the industry's point of view, focusing on the company's crossover goals and leaving out fans' histories, which can offer interpretations of the Supremes' music that reflect historical and present-day understandings of this music. Drawing from fandom studies and relying on oral histories, posts in online Facebook fan groups, and archival materials, this talk demonstrates how the Supremes' story and legacy is carried by their fans. Drawing on Matt Hills' concept of a fan-scholar, the speaker argues that the knowledge of experts from the fan community — from their archives and stories — invites a new perspective and more complete story of the Supremes. Elena Cruz-López is a PhD candidate in musicology with a graduate minor in Women's, Gender and Sexuality Studies. Elena's current research focuses on the music of The Supremes, genre, fandom, and how the Supremes' music shaped fans' lives. Her work has been presented at the Midwest Popular Culture Association / American Culture Association conference. Some of her other research interests include popular music in the 20th and 21st centuries, women in popular music, and girlhood in popular culture. Elena volunteers for TEMPO Music and Arts Camp (formerly known as Grrrls Rock Columbus), a summer camp for girls, trans, and non-binary youth ages 12–18. With TEMPO she works as a keyboard instructor and band coach. She also teaches violin and piano lessons at the Musicologie studio in Lewis Center. Lectures in Musicology is co-sponsored by The Ohio State University Libraries. Lectures are held Mondays at 4 p.m. in the 18th Avenue Library, 175 W. 18th Ave. (Music/Dance Library, second floor, room 205). These events are free and open to the public. Campus visitors, please use either the Tuttle Park Place Garage or the Ohio Union South Garage. All other garages in the vicinity of the 18th Ave. Library are closed to visitors before 4 p.m. Driving and Parking Instructions All events are subject to change. Musicology Events
18th Ave. Library, 175 W. 18th, Rm. 205
OSU ASC Drupal 8
ascwebservices@osu.edu
America/New_York
public
Date Range
Add to Calendar
2023-03-20 16:00:00
2023-03-20 17:30:00
Lectures in Musicology: Elena Cruz-López, Ohio State
Elena Cruz-López, PhD candidate in musicology at Ohio State, presents "Fans' Histories as Part of the Supremes' Story." This lecture is co-sponsored by The Ohio State University Libraries. The Supremes were one of the most successful girl groups in the 1960s, a result of Motown Records' successful marketing strategies. At the same time, the group amassed a large fan base of Baby Boomers that continued to support the group after the sixties by listening to their music, attending concerts and ensuring the Supremes were recognized by an institution such as the Rock and Roll Hall of Fame, among other fan activities. Oftentimes, Motown literature addresses the company's success from the industry's point of view, focusing on the company's crossover goals and leaving out fans' histories, which can offer interpretations of the Supremes' music that reflect historical and present-day understandings of this music. Drawing from fandom studies and relying on oral histories, posts in online Facebook fan groups, and archival materials, this talk demonstrates how the Supremes' story and legacy is carried by their fans. Drawing on Matt Hills' concept of a fan-scholar, the speaker argues that the knowledge of experts from the fan community — from their archives and stories — invites a new perspective and more complete story of the Supremes. Elena Cruz-López is a PhD candidate in musicology with a graduate minor in Women's, Gender and Sexuality Studies. Elena's current research focuses on the music of The Supremes, genre, fandom, and how the Supremes' music shaped fans' lives. Her work has been presented at the Midwest Popular Culture Association / American Culture Association conference. Some of her other research interests include popular music in the 20th and 21st centuries, women in popular music, and girlhood in popular culture. Elena volunteers for TEMPO Music and Arts Camp (formerly known as Grrrls Rock Columbus), a summer camp for girls, trans, and non-binary youth ages 12–18. With TEMPO she works as a keyboard instructor and band coach. She also teaches violin and piano lessons at the Musicologie studio in Lewis Center. Lectures in Musicology is co-sponsored by The Ohio State University Libraries. Lectures are held Mondays at 4 p.m. in the 18th Avenue Library, 175 W. 18th Ave. (Music/Dance Library, second floor, room 205). These events are free and open to the public. Campus visitors, please use either the Tuttle Park Place Garage or the Ohio Union South Garage. All other garages in the vicinity of the 18th Ave. Library are closed to visitors before 4 p.m. Driving and Parking Instructions All events are subject to change. Musicology Events
18th Ave. Library, 175 W. 18th, Rm. 205
School of Music
music@osu.edu
America/New_York
public
Description
Elena Cruz-López, PhD candidate in musicology at Ohio State, presents "Fans' Histories as Part of the Supremes' Story." This lecture is co-sponsored by The Ohio State University Libraries.
The Supremes were one of the most successful girl groups in the 1960s, a result of Motown Records' successful marketing strategies. At the same time, the group amassed a large fan base of Baby Boomers that continued to support the group after the sixties by listening to their music, attending concerts and ensuring the Supremes were recognized by an institution such as the Rock and Roll Hall of Fame, among other fan activities. Oftentimes, Motown literature addresses the company's success from the industry's point of view, focusing on the company's crossover goals and leaving out fans' histories, which can offer interpretations of the Supremes' music that reflect historical and present-day understandings of this music. Drawing from fandom studies and relying on oral histories, posts in online Facebook fan groups, and archival materials, this talk demonstrates how the Supremes' story and legacy is carried by their fans. Drawing on Matt Hills' concept of a fan-scholar, the speaker argues that the knowledge of experts from the fan community — from their archives and stories — invites a new perspective and more complete story of the Supremes.
Elena Cruz-López is a PhD candidate in musicology with a graduate minor in Women's, Gender and Sexuality Studies. Elena's current research focuses on the music of The Supremes, genre, fandom, and how the Supremes' music shaped fans' lives. Her work has been presented at the Midwest Popular Culture Association / American Culture Association conference. Some of her other research interests include popular music in the 20th and 21st centuries, women in popular music, and girlhood in popular culture. Elena volunteers for TEMPO Music and Arts Camp (formerly known as Grrrls Rock Columbus), a summer camp for girls, trans, and non-binary youth ages 12–18. With TEMPO she works as a keyboard instructor and band coach. She also teaches violin and piano lessons at the Musicologie studio in Lewis Center.
---
Lectures in Musicology is co-sponsored by The Ohio State University Libraries.
Lectures are held Mondays at 4 p.m. in the 18th Avenue Library, 175 W. 18th Ave. (Music/Dance Library, second floor, room 205). These events are free and open to the public. Campus visitors, please use either the Tuttle Park Place Garage or the Ohio Union South Garage. All other garages in the vicinity of the 18th Ave. Library are closed to visitors before 4 p.m.
All events are subject to change.
Events Filters:
---