Image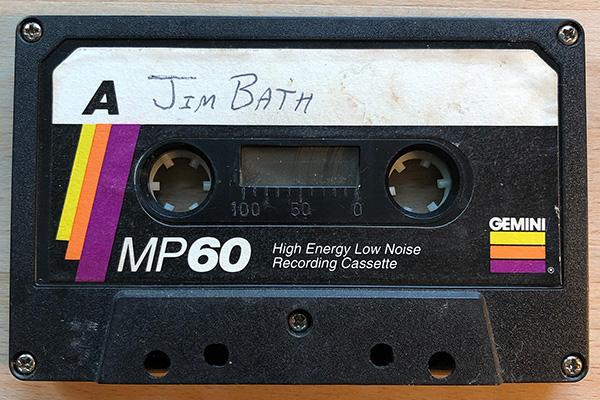 October 3, 2022
4:00PM - 5:30PM
Location
18th Ave. Library, 175 W. 18th, Room 205
Date Range
Add to Calendar
2022-10-03 16:00:00
2022-10-03 17:30:00
Lectures in Musicology: Brian Harnetty, Ohio State
Brian Harnetty, musicology, Ohio State, presents "How to Perform an Archive: Listening and Sonic Ethnography as Methods to Reinterpret Sonic Archives." Harnetty is a post-doctoral scholar and GAHDT Fellow (Global Arts + Humanities Discovery theme). This lecture is co-sponsored by The Ohio State University Libraries. How do we listen with, embody and reimagine archival materials? How might we bring these materials out of the archive and into the world? And, can we do this ethically, while also fostering a sense of stewardship to the people and places connected to archives? Over the past two decades, Brian Harnetty has worked as an interdisciplinary artist and composer to create new, critical performances of archives. Moving between music composition, sound art, sonic ethnography and socially engaged art, he has worked with archives across Appalachia and the Midwest, including the Berea Appalachian Sound Archives (Berea, Kentucky), the Sun Ra/El Saturn Collection (Chicago, Illinois), the Little Cities of Black Diamonds Archive (Shawnee, Ohio), and the Thomas Merton Collection (Louisville, Kentucky). In this talk, Harnetty will discuss a methodology of listening practices related to sonic archives, including close and peripheral listening, mislistening, and social listening with the communities where the recordings were made. These methods are used to foster social change, and understand archives in new ways. They are anchored in both the arts and humanities, and draw from community-based archives, music archives, and recordings focused on a single figure. Harnetty will explore themes from several of his recording, performance and installation projects, including histories of extraction in Appalachia, social and environmental justice, and contemplative practices.  Brian Harnetty is an interdisciplinary sound artist and composer who uses listening to foster social change. He works with sound archives and the communities connected to them, creating encounters that are centered on place and the transformative power of listening. For the past decade, Harnetty's projects have brought together myth, history, ecology, and economy in Appalachian Ohio, informed by his family's roots there. His current project, Words and Silences, is a musical portrait of monk and writer Thomas Merton, fusing archival recordings of his voice with newly composed music. Harnetty is a two-time recipient of the MAP Fund Grant (2021, 2020), and received the A Blade of Grass Fellowship for Socially Engaged Art in Contemplative Practices (2018) and the Creative Capital Performing Arts Award (2016). He has also twice received MOJO Magazine's "Underground Album of the Year" (2019, 2013). Harnetty earned a PhD in Interdisciplinary Arts at Ohio University, with a focus on sonic ethnography, sound studies and sound art. He studied music composition with Michael Finnissy at the Royal Academy of Music, London, where he earned an MMus. He earned a BMus in music composition and theory from The Ohio State University. Lectures in Musicology is co-sponsored by The Ohio State University Libraries. Lectures are held Mondays at 4 p.m. in the 18th Avenue Library, 175 W. 18th Ave. (Music/Dance Library, second floor, room 205). These events are free and open to the public. Campus visitors, please use either the Tuttle Park Place Garage or the Ohio Union South Garage. All other garages in the vicinity of the 18th Ave. Library are closed to visitors before 4 p.m. Driving and Parking Instructions All events are subject to change. Musicology Events  
18th Ave. Library, 175 W. 18th, Room 205
OSU ASC Drupal 8
ascwebservices@osu.edu
America/New_York
public
Date Range
Add to Calendar
2022-10-03 16:00:00
2022-10-03 17:30:00
Lectures in Musicology: Brian Harnetty, Ohio State
Brian Harnetty, musicology, Ohio State, presents "How to Perform an Archive: Listening and Sonic Ethnography as Methods to Reinterpret Sonic Archives." Harnetty is a post-doctoral scholar and GAHDT Fellow (Global Arts + Humanities Discovery theme). This lecture is co-sponsored by The Ohio State University Libraries. How do we listen with, embody and reimagine archival materials? How might we bring these materials out of the archive and into the world? And, can we do this ethically, while also fostering a sense of stewardship to the people and places connected to archives? Over the past two decades, Brian Harnetty has worked as an interdisciplinary artist and composer to create new, critical performances of archives. Moving between music composition, sound art, sonic ethnography and socially engaged art, he has worked with archives across Appalachia and the Midwest, including the Berea Appalachian Sound Archives (Berea, Kentucky), the Sun Ra/El Saturn Collection (Chicago, Illinois), the Little Cities of Black Diamonds Archive (Shawnee, Ohio), and the Thomas Merton Collection (Louisville, Kentucky). In this talk, Harnetty will discuss a methodology of listening practices related to sonic archives, including close and peripheral listening, mislistening, and social listening with the communities where the recordings were made. These methods are used to foster social change, and understand archives in new ways. They are anchored in both the arts and humanities, and draw from community-based archives, music archives, and recordings focused on a single figure. Harnetty will explore themes from several of his recording, performance and installation projects, including histories of extraction in Appalachia, social and environmental justice, and contemplative practices.  Brian Harnetty is an interdisciplinary sound artist and composer who uses listening to foster social change. He works with sound archives and the communities connected to them, creating encounters that are centered on place and the transformative power of listening. For the past decade, Harnetty's projects have brought together myth, history, ecology, and economy in Appalachian Ohio, informed by his family's roots there. His current project, Words and Silences, is a musical portrait of monk and writer Thomas Merton, fusing archival recordings of his voice with newly composed music. Harnetty is a two-time recipient of the MAP Fund Grant (2021, 2020), and received the A Blade of Grass Fellowship for Socially Engaged Art in Contemplative Practices (2018) and the Creative Capital Performing Arts Award (2016). He has also twice received MOJO Magazine's "Underground Album of the Year" (2019, 2013). Harnetty earned a PhD in Interdisciplinary Arts at Ohio University, with a focus on sonic ethnography, sound studies and sound art. He studied music composition with Michael Finnissy at the Royal Academy of Music, London, where he earned an MMus. He earned a BMus in music composition and theory from The Ohio State University. Lectures in Musicology is co-sponsored by The Ohio State University Libraries. Lectures are held Mondays at 4 p.m. in the 18th Avenue Library, 175 W. 18th Ave. (Music/Dance Library, second floor, room 205). These events are free and open to the public. Campus visitors, please use either the Tuttle Park Place Garage or the Ohio Union South Garage. All other garages in the vicinity of the 18th Ave. Library are closed to visitors before 4 p.m. Driving and Parking Instructions All events are subject to change. Musicology Events  
18th Ave. Library, 175 W. 18th, Room 205
School of Music
music@osu.edu
America/New_York
public
Description
Brian Harnetty, musicology, Ohio State, presents "How to Perform an Archive: Listening and Sonic Ethnography as Methods to Reinterpret Sonic Archives." Harnetty is a post-doctoral scholar and GAHDT Fellow (Global Arts + Humanities Discovery theme). This lecture is co-sponsored by The Ohio State University Libraries.
How do we listen with, embody and reimagine archival materials? How might we bring these materials out of the archive and into the world? And, can we do this ethically, while also fostering a sense of stewardship to the people and places connected to archives?
Over the past two decades, Brian Harnetty has worked as an interdisciplinary artist and composer to create new, critical performances of archives. Moving between music composition, sound art, sonic ethnography and socially engaged art, he has worked with archives across Appalachia and the Midwest, including the Berea Appalachian Sound Archives (Berea, Kentucky), the Sun Ra/El Saturn Collection (Chicago, Illinois), the Little Cities of Black Diamonds Archive (Shawnee, Ohio), and the Thomas Merton Collection (Louisville, Kentucky).
In this talk, Harnetty will discuss a methodology of listening practices related to sonic archives, including close and peripheral listening, mislistening, and social listening with the communities where the recordings were made. These methods are used to foster social change, and understand archives in new ways. They are anchored in both the arts and humanities, and draw from community-based archives, music archives, and recordings focused on a single figure. Harnetty will explore themes from several of his recording, performance and installation projects, including histories of extraction in Appalachia, social and environmental justice, and contemplative practices. 
Brian Harnetty is an interdisciplinary sound artist and composer who uses listening to foster social change. He works with sound archives and the communities connected to them, creating encounters that are centered on place and the transformative power of listening. For the past decade, Harnetty's projects have brought together myth, history, ecology, and economy in Appalachian Ohio, informed by his family's roots there. His current project, Words and Silences, is a musical portrait of monk and writer Thomas Merton, fusing archival recordings of his voice with newly composed music.
Harnetty is a two-time recipient of the MAP Fund Grant (2021, 2020), and received the A Blade of Grass Fellowship for Socially Engaged Art in Contemplative Practices (2018) and the Creative Capital Performing Arts Award (2016). He has also twice received MOJO Magazine's "Underground Album of the Year" (2019, 2013). Harnetty earned a PhD in Interdisciplinary Arts at Ohio University, with a focus on sonic ethnography, sound studies and sound art. He studied music composition with Michael Finnissy at the Royal Academy of Music, London, where he earned an MMus. He earned a BMus in music composition and theory from The Ohio State University.
---
Lectures in Musicology is co-sponsored by The Ohio State University Libraries.
Lectures are held Mondays at 4 p.m. in the 18th Avenue Library, 175 W. 18th Ave. (Music/Dance Library, second floor, room 205). These events are free and open to the public. Campus visitors, please use either the Tuttle Park Place Garage or the Ohio Union South Garage. All other garages in the vicinity of the 18th Ave. Library are closed to visitors before 4 p.m.
All events are subject to change.
Events Filters:
---