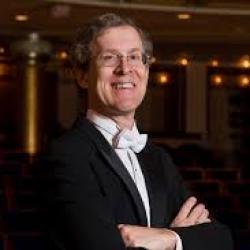 The School of Music will honor two distinguished alumni at its annual Honors Convocation on April 17.
Timothy Russell, professor of music at Arizona State University and conductor laureate of ProMusica Chamber Orchestra, will be presented with the 2014 Distinguished Alumnus Award. The honor is bestowed in recognition of the important contributions he has made to the music profession as conductor, educator, and entrepreneur.
Barbara Lipton Pinchuk will receive the 2014 Distinguished Service Award in recognition of her passion for the arts. As the founding director of The Music Center on Tour Program at the Performing Arts Center of Los Angeles County, as well as benefactor, community volunteer, teacher, and entrepreneur she has advanced the art of music-making, inspired youth, and promoted the philanthropic spirit in her community and beyond.
---
Timothy Russell is one of America's most versatile conductors, foremost music educators, and dynamic arts leaders. With a repertoire of over 1,000 works conducted, including over 100 world premieres, he is equally at home leading the great symphonic literature, music for chamber orchestra, ballet, large choral works, pops concerts, and children's programs. Russell is in his 21st year as a Professor of Music at Arizona State University. He is Director of Orchestras, directs the orchestral DMA program, and teaches an innovative general studies course entitled Performances: From Bach to Bebop.
Maestro Russell is in his twelfth season conducting Ballet Arizona's collaborations with The Phoenix Symphony, including the annual production of The Nutcracker. He has directed the Company's full-length productions of Cinderella, Coppelia, Don Quixote, Giselle, A Midsummer Night's Dream, Romeo and Juliet, Sleeping Beauty, Swan Lake, the premiere of Ib Andersen's Play, and five Balanchine Tributes. The June 2010 performances were reviewed by Alastair Macaulay, the Senior Dance Critic for the New York Times, who applauded "the performance by the Phoenix Symphony led by guest conductor Timothy Russell (taut, brisk tempos and handsome playing)." The next week Maestro Russell accompanied Ballet Arizona at the Kennedy Center in Washington, D.C., for three performances as part of the series "Ballet Across America."
This season he leads a new production of LaBayadere. Maestro Russell was named the Conductor Laureate of the award-winning ProMusica Chamber Orchestra of Columbus, Ohio, having just concluded his 35-year tenure as the co-founder and music director of the ensemble.
Dr. Russell is also one of the world's only major conductors who has maintained an active research presence throughout his career of over thirty-five years. He is currently writing three books – Joyful Musicians: Reflection, Intention, Community, and a Mindful Approach to Peak Performance; Mindful Conducting: A Practical Anthology; and Mindful Tennis, with Harvard psychologist Ellen Langer. With Professor Langer, Dr. Russell has published a research article in the internationally juried journal Psychology of Music entitled "Orchestral Performance and the Footprint of Mindfulness." He has also been involved in research concerning "Leadership Styles of Orchestral Conductors." Dr. Russell continues to be a featured author as well as a speaker at music conferences and workshops. In recent years he has conducted All-State Orchestras in Illinois, Iowa, Kansas, Minnesota, Missouri, New Mexico, North Carolina, North Dakota, Ohio, Oklahoma, and Texas.
He has collaborated in performances and recordings with such diverse artists as the Guarneri String Quartet, Borromeo String Quartet, Manhattan Transfer, Bela Fleck and the Flecktones, Ricky Skaggs and Kentucky Thunder, World Saxophone Quartet, Native American cedar flutist R. Carlos Nakai, fiddler Mark O'Connor, The Regina Carter Quintet, Paquito D'Rivera, jazz singer Jane Monheit, the legendary pop/folk singer/songwriter Nanci Griffith and her Blue Moon Orchestra, the Milton Ruffin Gospel Chorale, flutist Sir James Galway, pianists Jeremy Denk, Richard Goode, Gabriella Montero and Andre Watts, singers Benita Valente, Roberta Peters, and Hermann Prey, Ballet Arizona and the Miami City Ballet, as well as composers such as Michael Daugherty, Philip Glass, Peter Schickele, Joan Tower, and Frank Zappa.
He was presented the 2006 Ohioana Pegasus Award, given for his "unique and outstanding accomplishments in the arts and humanities." Past winners have included folk artist Elijah Pierce, Vietnam Veterans Memorial designer Maya Lin, conductor Erich Kunzel, and entertainers Rosemary Clooney, Doris Day, and Roy Rogers.
An articulate spokesperson for the arts, his obvious joy in discussing music and building new audiences is only surpassed by the insight and energy which his concerts possess...entertaining and enlightening programs of music spanning over four centuries, powerfully presented for listeners of all ages. The Columbus Dispatch has written, "Timothy Russell brings an intellectual curiosity to everything that he does...versatility and virtuosity...Russell's infectious enthusiasm, knack for innovation, and artistic sensibility have inspired support vital to the continued success of any artistic enterprise. Bravo!"
Other guest conducting appearances have included the Orquestra Sinfonica Escola Superior de Artes in Portugal, the Cleveland Institute Orchestra, Charlotte Symphony, Baton Rouge Symphony, South Dakota Symphony, American Classical Orchestra, Hawaii Symphony Orchestra, Spokane Symphony, Baltimore Chamber Orchestra, Quad City Symphony, Pittsburgh New Music Ensemble, Lehigh Valley Chamber Orchestra, Summit Brass, Interlochen Arts Academy Orchestra, and symphony orchestras in Arkansas, Indiana, Iowa, Missouri, Montana, and Texas.
As a conductor/record producer of 28 CDs, Russell has received two Grammy nominations – for The Manhattan Transfer Meets Tubby the Tuba on (d'Note Classics) as the "Best Musical Album for Children" in 1995 and for Inner Voices with R. Carlos Nakai (on Canyon Records) as "Best New Age Album" in 2000.
Dr. Russell spent twenty summers conducting and teaching at the Interlochen Arts Camp. He led the World Youth Symphony for eighteen consecutive years. He was also a summer guest conductor at "Music in the Mountains" and for a performance with ProMusica at the Kent/Blossom Chamber Music Festival. Other summer conducting and teaching engagements have included such settings as the American Music Festival, Ohio Chamber Music Festival, the Pittsburgh "Summerfest," Rafael Mendez Brass Institute, the National Brass Symposium, the Lake Lucerne Music Center, with the Lake Placid Sinfonietta, and at the Oklahoma Arts Institute.
Timothy Russell began his musical training on the cello and after significant accomplishments on that instrument he entered the Northwestern University School of Music. In addition to his studies, Russell became the Music Director of the Northwestern Chamber Players and later the New Art String Ensemble which performed throughout the Chicago area. In 1977, Russell won an appointment as a Danforth Foundation Fellow, receiving his Master's degree and PhD from The Ohio State University, where he then taught for three years as an Assistant Professor of Music. From 1983–1989 Russell served as Conductor of Orchestras at the University of Rochester. Dr. Russell held appointments as an Associate Professor in the College of Arts and Science and as an Associate Professor of Conducting and Ensembles at the Eastman School of Music.
In autumn 1993 he became Professor of Music and Director of Orchestras at Arizona State University. The ASU Symphony Orchestra has collaborated with the Bolshoi Ballet in a fully-staged production of LaBayadere and with Ballet Arizona in presenting Tchaikovsky's full-length Swan Lake ballet. The ASU Chamber Orchestra has offered three complete performances of Handel's Messiah with the Phoenix Bach Choir. In February 2005 the ASU Symphony Orchestra was the featured concluding concert for the American String Teachers Association's national conference in Reno, Nevada. In April 1998 the ASU Symphony Orchestra and Chamber Orchestral performed one of the featured evening concerts for the Biennial Convention of the Music Educators National Conference, a program entitled Sounds and Sights of the Desert which included collaborations with photo-choreographer James Westwater, Alliance West, and R. Carlos Nakai. The symphony and chamber orchestras have recorded five commercially released compact discs (Perception, Lilacs: The Music of George Walker, Katherine Hoover's Clarinet Concerto, A Brassy Night at the Opera, and Moozie the Cow's Musical Adventures) as well as offered such programs as "The Classics Meet Jazz" with clarinetist Eddie Daniels and Doc Severinsen.
Russell is a USPTR Certified Tennis Instructor and was a featured speaker at the 1998 and 2000 USTA's National Teachers Conference in New York City. In addition he is the Past-President and Delegate of the USTA's Southwest Section, past chair of the USTA's national Collegiate Varsity and national Junior Competition Committees, and currently a member of the Executive Committee of the United States Tennis Association.
Timothy and his wife, Jill, reside in Phoenix, Arizona. They have two grown children and two adorable granddaughters. They enjoy sports, travel, and cooking.
---
Barbara Lipton Pinchuk graduated from The Ohio State University in 1963 with a BA in Music Education. She has owned and operated Center Stage Production, an arts and entertainment consulting firm for more than 25 years. Before starting her own business, Barbara was a Music Teacher and an Arts Consultant for the San Fernando Valley Executives Association.
Barbara has a passion for the arts and is a Founding Director of The Music Center on Tour program at the Performing Arts Center of Los Angeles County – the largest touring art education program in the nation. She established - along with her husband - the Pinchuk Artistic Development Fund at the Performing Arts Center of Los Angeles County. This fund supports the talent and work of various artists. Barbara has been honored with the Hourglass Award for Outstanding Achievement in the Arts.
Barbara has supported The Ohio State University through volunteerism and philanthropy. She received the John B. Gerlach, Sr. Development Volunteer Award in 1997 for her exceptional efforts in the West Coast region, the College of Arts and Sciences, and other volunteer activities. She is a donor of The Ohio State University's Barbara Lipton Pinchuk Scholarship Fund in the School of Music, the Bruce L. Lipton MD Scholarship Fund in Medicine Education (established in honor of Barbara's brother by friends and family) and a supporter of Development Administration as an event host. She is a member of the School of Music New Day Campaign Committee and the National Council for OSU Women, and a former member of the Alumni Association Advisory Council. Barbara is an annual member of the Ohio State University Alumni Association.
She resides in Woodland Hills, CA with her husband, Sheldon. Sheldon is a Principal with the Finnegan Pinchuk Company, a television producer and consultant. He has twice been nominated for Emmys as a Producer of Lincoln (1988) and Amos (1985) television programs. They have three children.