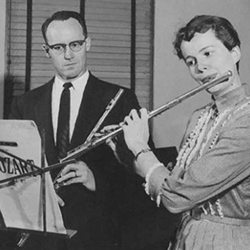 The School of Music pays tribute to Kay Logan who passed away on June 8 in Alexandria, Virginia. Kay was a generous donor to the School of Music and spearheaded the effort to raise support for the Donald E. McGinnis School of Music New Day Fund to ensure that the renovated facilities will include a named space to honor her teacher and mentor.
Beverly Kay Hardesty Logan (née Wolford), accomplished musician, educator, philanthropist, and arts advocate extraordinaire, was born in Lancaster, Ohio. Kay's love of music was nurtured early as she studied flute with Professor Donald McGinnis at Lancaster High School. She continued her studies at The Ohio State University where she graduated cum laude with a Bachelor of Music in 1958, and the University of Illinois where she received a Master of Music, was a member of the orchestra, and served as a faculty member.

Music education - particularly special education music - was always near and dear to her heart. She often said, "I didn't teach music – I used music to teach." Known as an innovative, creative and dynamic teacher, she excelled in using music to teach "the unteachable ones." Her expertise was sought after by organizations throughout the United States, England, France, Germany and South America. Her extensive lexicon of special education teaching methods and learning has been preserved in numerous professional journals and also in primary education textbooks created under the auspices of Silver Burdett Ginn. She was granted honorary awards and degrees from Penn State, Ohio State and the Cleveland Institute of Music.

Collaboration with other musicians was a constant source of joy for Kay. Throughout her lifetime she performed with The Ohio State University (OSU) Concert Band, OSU Symphony, University of Illinois Orchestra, Wheeling Symphony, Chautauqua Student Symphony, Chautauqua Symphony Orchestra, Chautauqua Community Band, and the Columbus Symphony Orchestra where she served as principal flutist for fifteen years.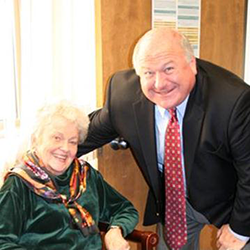 Kay Wolford Logan and Richard L. Blatti, director of the School of Music. >
Obituary on Observer Today (Dunkirk, NY) website