March 30, 2016
In memoriam: Donald Harris, 1931-2016
Image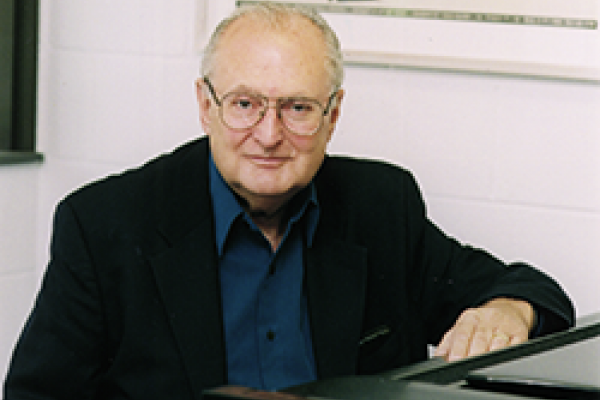 Description
It is with profound sadness that the School of Music reports the loss of our beloved professor emeritus Donald Harris, internationally known composer, founder of the Contemporary Music Festival and former dean of the College of the Arts. He passed away Tuesday morning while under hospice care at Kobacker House in Columbus, surrounded by family and his wife Marilyn. Don would have been 85 next week. A celebration of his life and legacy will be held May 1 at 2 p.m. in Weigel Auditorium, with details to follow. For more information, go to www.schoedinger.com.
Donald Harris was an American composer born April 7, 1931, in St. Paul, Minnesota to the late Barney and Hattie Harris. Donald served as an administrator at the New England Conservatory of Music (1967-77) and as Dean of the Hartt School of Music, University of Hartford (1977-88), before becoming Dean of the College of the Arts and professor of music at The Ohio State University (1988-1997). After a thirty-year career as a senior-level administrator in higher education and the arts, he stepped down as Dean and rejoined the Ohio State faculty in composition. Harris earned his bachelor's and master's degrees in composition from The University of Michigan, where he was a student of Ross Lee Finney. He continued his studies with Lukas Foss, Boris Blacher, Nadia Boulanger and Max Deutsch.
From 1954 until 1968, Harris lived in Paris where, among other things, he was music consultant to the United States Information Service and produced the city's first postwar Festival of Contemporary American Music. Harris received numerous commissions, including the Serge Koussevitzky Music Foundation, St. Paul Chamber Orchestra, Radio France, and the Cleveland Orchestra, to name a few. He was co-editor of the W. W. Norton publication of the correspondence between Alban Berg and Arnold Schoenberg, for which he received an ASCAP Deems Taylor Award (1989). He was honored with an award in composition from the American Academy and Institute of Arts and Letters (1991). A documentary about Harris entitled "Sonata 1957" was produced by Daniel Beliavsky in 2011. It explores Harris' development in mid-20th-century Paris, when pre-war musical thought bridged with post-war experimentation. Donald was honored by The King Arts Complex with a Legends & Legacies award in October 2011. He received an honorary Doctor of Music degree from The Ohio State University in June 2012. Harris, past president of The International Council of Fine Arts Deans (ICFAD), served on the boards of BalletMet, Columbus Symphony Orchestra and the Martin Luther King Center. He was currently serving on the board of The Johnstone Fund for New Music. Harris was twice honored with the OSU School of Music's Distinguished Service Award "in recognition of the trailblazing contributions and the dedicated service provided to the music profession and the arts community as a composer, professor and arts administrator."
Aside from all the accolades and awards bestowed upon Donald, he will be remembered by most as a genuine, kind man who was a mentor to many.
---