Wednesday, November 14, 2018 - 4:30pm
Music & Dance Library, 18th Ave. Library, Room 205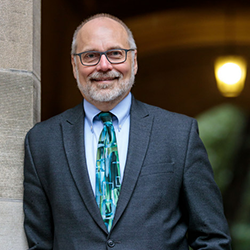 The Music Theory area will hold its annual William Poland Lecture on Wednesday, Nov. 14 at the 18th Avenue Library, Room 205. This event is free and open to the public.
This year's lecture will be given by Lawrence Zbikowski of the University of Chicago. Professor Zbikowski's work involves applying recent work in cognitive science — especially work done by cognitive linguists and cognitive psychologists — to various problems confronted by music scholars, with a particular focus on music theory and analysis. His 2002 book Conceptualizing Music was awarded the Wallace Berry Award by the Society for Music Theory. His most recent book is Foundations of Musical Grammar (Oxford University Press, 2017).

Mimesis, Meaning, and Music
Lawrence M. Zbikowski, University of Chicago Department of Music

The idea that music gained meaning through the imitation of features of the natural world — what is broadly understood as mimesis — was one that was common in the eighteenth century and roundly rejected in the nineteenth. Recent work on humans' capacity for analogical thought and on the infrastructure of human communication has, however, provided a framework for reconsidering how and why sequences of musical sound might be used to imitate natural phenomena. In this presentation, the speaker uses the framework provided by research in cognitive science to explore what eighteenth-century notions about mimesis might tell us about musical organization in general, and the construction of musical meaning in particular. This exploration has a direct connection with Zbikowski's recent work on a cognitive grammar for music, and also provides an opportunity to think more deeply about why the nineteenth century turned away from the notion that music gained meaning through mimesis and toward the idea that music is a fundamentally abstract medium.
---

18th Avenue Library (second floor, Music/Dance Library, Room 205), 175 West 18th Ave.
Campus visitors, please use the Tuttle Park Place Garage or the Ohio Union South Garage if arriving prior to 4 p.m. See Directions and Parking for additional options as of 4 p.m.