Image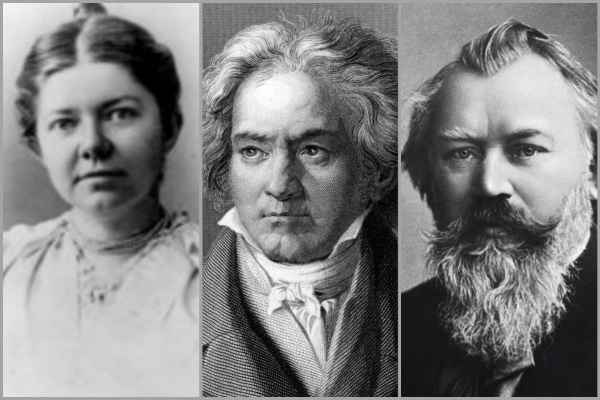 November 29, 2022
8:00PM - 9:30PM
Location
Timashev Recital Hall, 1900 College
Date Range
Add to Calendar
2022-11-29 20:00:00
2022-11-29 21:30:00
The Three B's: A recital of chamber works by Beach, Beethoven and Brahms
Students in the Ohio State Chamber Music program perform the Beethoven "Ghost" Trio, Brahms Piano Quartet in C minor, and the Amy Beach Piano Trio.  PERFORMERS Beethoven "Ghost" Trio Matthew Kinnear, violin; Lucy Reed, cello; Clara Rudy, piano Brahms Piano Quartet in C minor Vani Shukla, violin; Zee Perry, viola; James McDermott, cello; Gi Ding, piano Beach Piano Trio Perri Kiser, violin; Lydia Smith, cello; Emily Foster, piano All events are subject to change. GETTING HERE While the new building for Theatre, Film and Media Arts remains under construction north of the new Timashev Music Building, the north doors of the music building remain closed.  Park in the Ohio Union South Garage (open to visitors 25/7), walk north along College Road to enter the south doors of the Timashev Music Building and to Mershon Auditorium located closer to High St., just East of the Timashev Building.  If an elevator is needed, walk through the Music Commons, behind the open stairway to the back hallway. Follow the hallway through the double doors to the elevator. Driving and Parking Instructions
Timashev Recital Hall, 1900 College
OSU ASC Drupal 8
ascwebservices@osu.edu
America/New_York
public
Date Range
Add to Calendar
2022-11-29 20:00:00
2022-11-29 21:30:00
The Three B's: A recital of chamber works by Beach, Beethoven and Brahms
Students in the Ohio State Chamber Music program perform the Beethoven "Ghost" Trio, Brahms Piano Quartet in C minor, and the Amy Beach Piano Trio.  PERFORMERS Beethoven "Ghost" Trio Matthew Kinnear, violin; Lucy Reed, cello; Clara Rudy, piano Brahms Piano Quartet in C minor Vani Shukla, violin; Zee Perry, viola; James McDermott, cello; Gi Ding, piano Beach Piano Trio Perri Kiser, violin; Lydia Smith, cello; Emily Foster, piano All events are subject to change. GETTING HERE While the new building for Theatre, Film and Media Arts remains under construction north of the new Timashev Music Building, the north doors of the music building remain closed.  Park in the Ohio Union South Garage (open to visitors 25/7), walk north along College Road to enter the south doors of the Timashev Music Building and to Mershon Auditorium located closer to High St., just East of the Timashev Building.  If an elevator is needed, walk through the Music Commons, behind the open stairway to the back hallway. Follow the hallway through the double doors to the elevator. Driving and Parking Instructions
Timashev Recital Hall, 1900 College
School of Music
music@osu.edu
America/New_York
public
Description
Students in the Ohio State Chamber Music program perform the Beethoven "Ghost" Trio, Brahms Piano Quartet in C minor, and the Amy Beach Piano Trio. 
PERFORMERS
Beethoven "Ghost" Trio
Matthew Kinnear, violin; Lucy Reed, cello; Clara Rudy, piano
Brahms Piano Quartet in C minor
Vani Shukla, violin; Zee Perry, viola; James McDermott, cello; Gi Ding, piano
Beach Piano Trio
Perri Kiser, violin; Lydia Smith, cello; Emily Foster, piano
All events are subject to change.
---
GETTING HERE
While the new building for Theatre, Film and Media Arts remains under construction north of the new Timashev Music Building, the north doors of the music building remain closed. 
Park in the Ohio Union South Garage (open to visitors 25/7), walk north along College Road to enter the south doors of the Timashev Music Building and to Mershon Auditorium located closer to High St., just East of the Timashev Building. 
If an elevator is needed, walk through the Music Commons, behind the open stairway to the back hallway. Follow the hallway through the double doors to the elevator.
Events Filters:
---