Friday, March 1, 2019 -

4:00pm

to

5:30pm
Thompson Library, 11th floor Campus Reading Room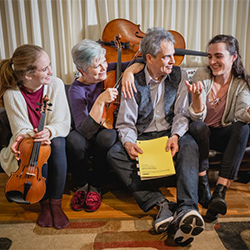 Two of composer Paul Hindemith's milestone chamber works were first published in 1923: the Cello Sonata op. 25 no. 3, and the String Quartet op. 22. Mark Rudoff, professor of cello and chamber music, has a special interest in these works, and will celebrate their public domain status by performing them as a soloist and as a member of the Janus Quartet. Remarks on the significant public domain developments in 2019 and the music itself will be presented, with opportunities for questions and discussion.

This concert marks the launch of a new Columbus string quartet that takes its name and inspiration from Janus, the Roman god of time and transitions, presenting faces that look to the past and the future. Janus brings together rising stars — violinists Devin Copfer and Leah Anderson — with veterans Nancy Nehring, viola and Mark Rudoff, cello. They share the artistic mission of tugging on threads that connect old and new music, and weaving those threads into the broad tapestry of the humanities.

This event is free and open to the public, and is offered as part of the Public Domain Project at Ohio State.
The Symphonic Band, also participating in the project, will present a concert featuring "McKinley's Own" March by Karl King on Thursday, April 11.