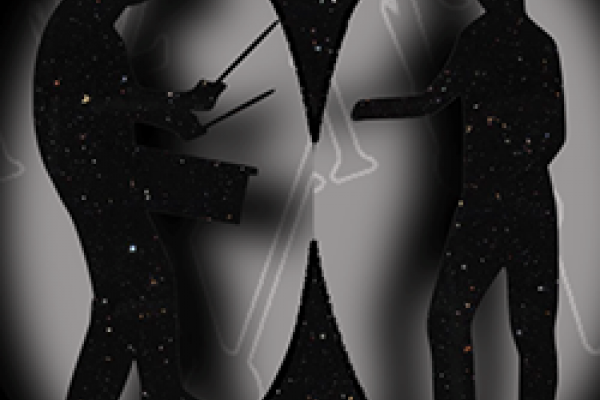 April 15, 2019
All Day
18th Ave. Library, 175 W. 18th, Room 205
Yong Jeon Cheong, doctoral candidate in cognitive ethnomusicology, presents "How Does Music Change our Experience of Time and Space?"

While listening to or performing music, we sometimes feel that we are in another world or have lost our sense of time and space. Although many people agree that music changes the way we experience the world, how it works is still a mystery. For the past few decades, music researchers from ethnomusicology, psychology and neuroscience have sought to understand this transformative power of music. Recent neuroscience studies have reported that the human brain distinguishes voice from instrumental sounds. Past members of the cognitive ethnomusicology lab at Ohio State found that we process and memorize vocal rhythms differently from instrumental rhythms. The broad question underlying the present work is whether the two modes of music-making affect our experience of space differently.
This talk reports results of a study on "space pertaining to the body." We use our bodies in different ways when singing or when playing an instrument. We control our vocal organs in order to sing while our hands are primarily used for playing an instrument. Accordingly, it may be possible that the different modes of music-making cause us to experience space differently. The embodied space in music-making is defined by audio-tactile integration, sensorimotor coupling, and plasticity (i.e. space extended by the use of an instrument). In order to test whether there are different changes in experience of time and space between singing and playing, Cheong conducts two audio-tactile integration experiments with three groups of subjects: non-musicians, singers, and instrumental players. Given that music and mind are interrelated in a complex way, this study may show how human perception, shaped by previous musical experiences, contributes to our understanding of the world.       
 
Yong Jeon (YJ) Cheong is a PhD candidate in cognitive ethnomusicology at Ohio State. She earned her BM and MM in composition at Ewha Woman's University. Her music education at Ewha led her to wonder how and why music touches and moves us, which brought her to Ohio State. In addition to earning an MM in composition, she focused on how we process and memorize rhythm to complete her MA in cognitive ethnomusicology. During her doctoral study, she has developed her ideas on how both sensory perception and cultural factors in music-making contribute to an understanding of human experience of time and space. She has presented this work at various conferences, including the International Conference on Music Perception and Cognition (ICMPC), the European Seminar in Ethnomusicology (ESEM), and the Symposium on Scientific Approaches in Sound and Movement Research.
---

Lectures in Musicology is co-sponsored by The Ohio State University Libraries.
Lectures are held Mondays at 4 p.m. in the 18th Avenue Library, 175 W. 18th Ave. (Music/Dance Library, second floor, room 205). These events are free and open to the public.
Campus visitors, please use either the Tuttle Park Place Garage or the Ohio Union South Garage. All other garages in the vicinity of the 18th Ave. Library are closed to visitors before 4 p.m.
Events Filters:
---