Wednesday, November 20, 2019 - 2:00pm
177 Weigel Hall - 1866 College Rd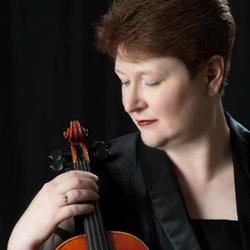 This event has been canceled.
---
Penny Thompson Kruse presents a violin and chamber music master class in 177 Weigel Hall on Wednesday afternoon. Participating students will play chamber works by Bruch, Tchaikovsky, Bartók and Rabl: clarinetist Noah Wise; violinists Anita Chiu, Jiaxu Du, Mathew Kinnear and Vani Shukla; cellist Thomas LaMon; pianist Sunghwan Kim. This event is sponsored by the School of Music clarinet studio.
Penny Thompson Kruse, professor of violin at Bowling Green State University, has performed extensively as a soloist, orchestral and chamber musician. Prior to her BGSU appointment in 2000, Kruse was on the faculty of William Jewell College in Liberty, Missouri, for eight years. For five seasons she was a member of the Kansas City Symphony, serving as associate concertmaster during the 1989–90 season. Trained at Northwestern and Yale Universities and earning a DMA in violin performance from the University of Missouri–Kansas City, Conservatory of Music and Dance, Dr. Kruse has published articles in American String Teacher, the Strad and Journal of the American Viola Society.
Dr. Kruse has performed in numerous music festivals, including the Colorado, Peninsula, Spoleto and Grand Teton. As first violinist of the Escher Quartet, she was an artist-in-residence at Music at Penn's Woods at Pennsylvania State University. For twenty years, she member of the violin faculty at Eastern Music Festival in Greensboro, North Carolina. Her performance of Chen Yi's Chinese Folk Dance Suite, with the Bowling Green Philharmonia, is available on Albany Records.
This event is free and open to the public. No ticket required.
---
A new home for the School of Music
The transformative Ohio State Arts District project includes a renovated and expanded School of Music. This new facility is an investment in our future performers, music educators, conductors and scholars. To learn more, visit go.osu.edu/artsdistrict.