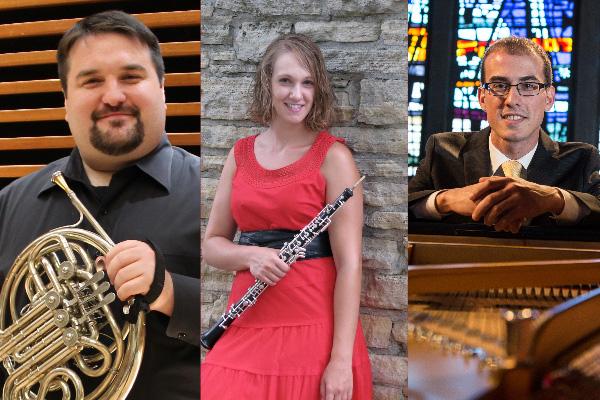 September 18, 2023
7:30PM - 9:00PM
Timashev Recital Hall, 1900 College
Add to Calendar
2023-09-18 19:30:00
2023-09-18 21:00:00
Guest Recital and Master Class: Matthew Haislip, horn
Matthew Haislip, assistant professor of horn at Mississippi State University, presents a brief recital and a master class for the horn studio, in collaboration with Jessica Haislip, instructor of oboe at Mississippi State and principal oboe of the Monroe Symphony Orchestra, and Richard Jeric, pianist, collaborator and educator. Selections will be announced from the stage. About the artists This event is free and open to the public. No ticket required. All events are subject to change. GETTING HERE Park in the Ohio Union South Garage (open to visitors 24/7), walk north along College Rd. to enter the south doors of the Timashev Music Building. The Timashev Recital Hall is located on the ground floor, at the far north end of the building. Driving and Parking Instructions
Timashev Recital Hall, 1900 College
OSU ASC Drupal 8
ascwebservices@osu.edu
America/New_York
public
Date Range
Add to Calendar
2023-09-18 19:30:00
2023-09-18 21:00:00
Guest Recital and Master Class: Matthew Haislip, horn
Matthew Haislip, assistant professor of horn at Mississippi State University, presents a brief recital and a master class for the horn studio, in collaboration with Jessica Haislip, instructor of oboe at Mississippi State and principal oboe of the Monroe Symphony Orchestra, and Richard Jeric, pianist, collaborator and educator. Selections will be announced from the stage. About the artists This event is free and open to the public. No ticket required. All events are subject to change. GETTING HERE Park in the Ohio Union South Garage (open to visitors 24/7), walk north along College Rd. to enter the south doors of the Timashev Music Building. The Timashev Recital Hall is located on the ground floor, at the far north end of the building. Driving and Parking Instructions
Timashev Recital Hall, 1900 College
School of Music
music@osu.edu
America/New_York
public
Matthew Haislip, assistant professor of horn at Mississippi State University, presents a brief recital and a master class for the horn studio, in collaboration with Jessica Haislip, instructor of oboe at Mississippi State and principal oboe of the Monroe Symphony Orchestra, and Richard Jeric, pianist, collaborator and educator. Selections will be announced from the stage. About the artists
This event is free and open to the public. No ticket required.
All events are subject to change.
---
GETTING HERE
Park in the Ohio Union South Garage (open to visitors 24/7), walk north along College Rd. to enter the south doors of the Timashev Music Building.
The Timashev Recital Hall is located on the ground floor, at the far north end of the building.
Events Filters:
---