Wednesday, September 20, 2017 - 8:00pm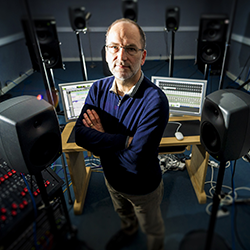 John Young, one of the most imaginative composers of computer music of his generation, will present a selection of his multi-channel and multimedia acousmatic works, along with an informal talk about his work in general.

Hosted by The Ohio State University School of Music and The Advanced Computing Center for the Arts & Design (ACCAD)

John Young is professor of composition in the Music, Technology and Innovation Research Centre at De Montfort University, Leicester, UK. His output includes multi-channel electroacoustic pieces, large-scale radiophonic work, and music combining instruments and electroacoustic sounds. He composes largely with his own field recordings, using these as windows on experience in creating new, imaginative sound worlds by embedding them in networks of digitally realized sound design.
Event poster [pdf]