Thursday, February 9, 2017 - 8:00pm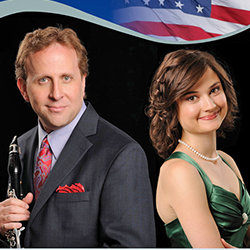 The School of Music is pleased to present guest artists Jonathan Cohler and Rasa Vitkauskaite. They will perform Zarabandeo (1995), Arturo Márquez; Tonada y Cueca (1966), Carlos Guastavino; Fantasiestücke, Op. 73, Robert Schumann; Liquid Ebony (2003), Dana Wilson; Sonata (1942), Leonard Bernstein and La Fleur de Cayenne (2014), Paquito D'Rivera.
Jonathan Cohler is recognized as "an absolute master of the clarinet" (The Clarinet Magazine). Through his performances around the world and on record, he has thrilled an ever widening audience with his musicianship and total technical command. His technical feats have been hailed as "superhuman" and Fanfare Magazine has placed him in the pantheon of legendary musicians: "one thinks of Dinu Lipatti." His many recordings have received resounding accolades and awards including nomination for the INDIE Award, the Outstanding Recording mark of the American Record Guide, BBC Music Magazine's Best CDs of The Year selection, and top ratings from magazines, radio stations and record guides worldwide.
In recent years Mr. Cohler has collaborated with multiple-award-winning Lithuanian pianist Rasa Vitkauskaite to form today's leading clarinet-piano duo, which is featured in three recent recordings: American Tribute, Romanza, and Rhapsodie Française. His latest CD, Cohler plays and conducts Weber with the renowned Franz Liszt Chamber Orchestra, will be featured on the cover of the March 2017 issue of Fanfare Magazine.
This recital is free and open to the public.