Thursday, March 29, 2018 - 5:00pm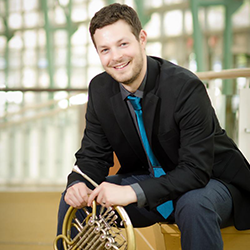 The School of Music welcomes alumnus Joshua Michal, assistant professor of horn at the University of Massachusetts–Amherst; with Ludmila Krasin, piano, and Allyson Michal, violin. Selections from the following: zero.point., Tyler Ogilvie; Lament—for Gretchen, Tim Martin; Persistent Tracings for horn, violin and electronics, Peter Van Zandt Lane; "Song to the Moon" from Rusalka, Antonin Dvorák; Trio in Eb Major, Op. 40, Johannes Brahms.
This recital is free and open to the public. No ticket required.