Sunday, February 23, 2020 - 4:00pm
St. Mark's Episcopal Church, 2151 Dorset Rd. 43221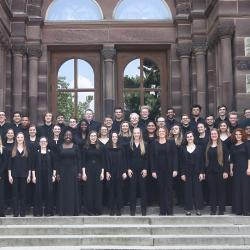 The ensemble presents a concert at St. Mark's Episcopal Church, Upper Arlington. Tyler W. Robertson, a doctoral conducting associate, will conduct the Evening Canticles of five living American composers, preceded (at 3:40 p.m.) by a brief lecture on the topic. A performance of Benjamin Britten's Rejoice in the Lamb is featured, with Kevin Jones, organist.
Robert Bode, conductor; Lee D. Thompson, collaborative pianist.
This concert is free and open to the public. No ticket required.
---
School of Music ensembles are performing throughout the community while construction to Weigel Hall is underway. We extend our sincerest gratitude to our hosts for this performance.

A new home for the School of Music
The transformative Ohio State Arts District project includes a renovated and expanded School of Music. This new facility is an investment in our future performers, music educators, conductors and scholars. To learn more, visit go.osu.edu/artsdistrict.