Image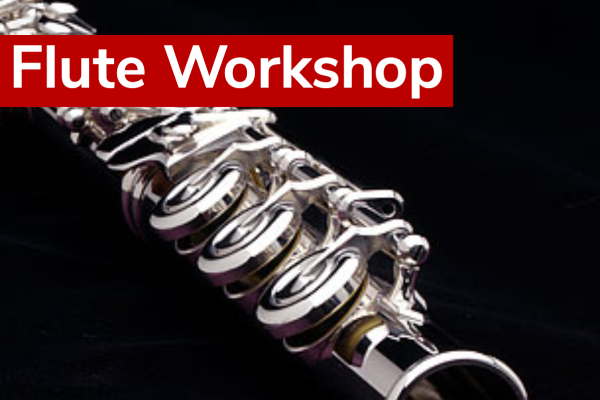 June 18 - June 22, 2023
9:00AM - 4:00PM
Location
Various times and locations
Date Range
Add to Calendar
2023-06-18 09:00:00
2023-06-22 16:00:00
Flute Workshop
Join Professor Katherine Borst Jones for Flute Workshop 2023! Students will participate in master classes taught by Professor Jones and guests, technique classes, private lessons, solo night, faculty and counselor recitals, flute choir and twice-daily coached small flute ensembles. For details, visit Flute Workshop. All events are subject to change. GETTING HERE While the new building for Theatre, Film and Media Arts remains under construction, the north side of the Timashev Music Building remains closed.  Park in the Ohio Union South Garage (open to visitors 24/7), walk north along College Rd. to enter the south doors of the Timashev Music Building. Driving and Parking Instructions
Various times and locations
OSU ASC Drupal 8
ascwebservices@osu.edu
America/New_York
public
Date Range
Add to Calendar
2023-06-18 09:00:00
2023-06-22 16:00:00
Flute Workshop
Join Professor Katherine Borst Jones for Flute Workshop 2023! Students will participate in master classes taught by Professor Jones and guests, technique classes, private lessons, solo night, faculty and counselor recitals, flute choir and twice-daily coached small flute ensembles. For details, visit Flute Workshop. All events are subject to change. GETTING HERE While the new building for Theatre, Film and Media Arts remains under construction, the north side of the Timashev Music Building remains closed.  Park in the Ohio Union South Garage (open to visitors 24/7), walk north along College Rd. to enter the south doors of the Timashev Music Building. Driving and Parking Instructions
Various times and locations
School of Music
music@osu.edu
America/New_York
public
Description
Join Professor Katherine Borst Jones for Flute Workshop 2023! Students will participate in master classes taught by Professor Jones and guests, technique classes, private lessons, solo night, faculty and counselor recitals, flute choir and twice-daily coached small flute ensembles.
For details, visit Flute Workshop.
All events are subject to change.
---
GETTING HERE
While the new building for Theatre, Film and Media Arts remains under construction, the north side of the Timashev Music Building remains closed. 
Park in the Ohio Union South Garage (open to visitors 24/7), walk north along College Rd. to enter the south doors of the Timashev Music Building.
Events Filters:
---