Image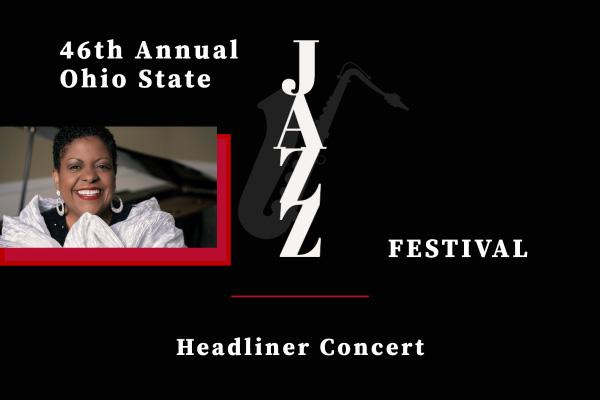 March 25, 2023
8:00PM - 9:30PM
Location
Weigel Auditorium
Date Range
Add to Calendar
2023-03-25 20:00:00
2023-03-25 21:30:00
Jazz Festival Headliner Concert: Jazz Ensemble features vocalist Carmen Bradford
The Ohio State Jazz Ensemble and headliner artist Carmen Bradford perform as part of the 46th Annual Ohio State Jazz Festival. Michael Smith, conductor. This event is free and open to the public. No ticket required. Livestream broadcast begins at 8 p.m. Access the digital Concert program before, during or after the event. No paper programs will be distributed. 2022 Grammy Nominee, and recipient of the Los Angeles Jazz Society's Jazz Vocalist Award, Carmen Bradford, was discovered at age 22 and hired by William "Count" Basie; she was the featured vocalist in the legendary Count Basie Orchestra for nine years. She has since performed and/or recorded with countless artists around the world. Currently, Carmen Bradford's love for working with big bands and symphony orchestras across the world is keeping her very busy, as she pays tribute to the great Ella Fitzgerald in her her show called "A Century of Ella" created and conducted by jazz great Jeff Tyzik. Carmen Bradford and the incredible trumpeter/vocalist Byron Stripling also pay tribute to the greats in their show titled "Ella and Louis" for which they've received rave reviews. Read more. All events are subject to change. GETTING HERE While the new building for Theatre, Film and Media Arts remains under construction, the north side of the Timashev Music Building remains closed.  Park in the Ohio Union South Garage (open to visitors 24/7), walk north along College Rd. to enter the south doors of the Timashev Music Building. Weigel Auditorium is located on the second floor at the far south end of the building. An open stairway located just inside the south doors leads to the hall. If an elevator is needed, travel through the Music Commons at the south end of the building, to the hallway to the right of the restrooms. Follow the hallway through the double doors to the Weigel Auditorium elevator. Driving and Parking Instructions 
Weigel Auditorium
OSU ASC Drupal 8
ascwebservices@osu.edu
America/New_York
public
Date Range
Add to Calendar
2023-03-25 20:00:00
2023-03-25 21:30:00
Jazz Festival Headliner Concert: Jazz Ensemble features vocalist Carmen Bradford
The Ohio State Jazz Ensemble and headliner artist Carmen Bradford perform as part of the 46th Annual Ohio State Jazz Festival. Michael Smith, conductor. This event is free and open to the public. No ticket required. Livestream broadcast begins at 8 p.m. Access the digital Concert program before, during or after the event. No paper programs will be distributed. 2022 Grammy Nominee, and recipient of the Los Angeles Jazz Society's Jazz Vocalist Award, Carmen Bradford, was discovered at age 22 and hired by William "Count" Basie; she was the featured vocalist in the legendary Count Basie Orchestra for nine years. She has since performed and/or recorded with countless artists around the world. Currently, Carmen Bradford's love for working with big bands and symphony orchestras across the world is keeping her very busy, as she pays tribute to the great Ella Fitzgerald in her her show called "A Century of Ella" created and conducted by jazz great Jeff Tyzik. Carmen Bradford and the incredible trumpeter/vocalist Byron Stripling also pay tribute to the greats in their show titled "Ella and Louis" for which they've received rave reviews. Read more. All events are subject to change. GETTING HERE While the new building for Theatre, Film and Media Arts remains under construction, the north side of the Timashev Music Building remains closed.  Park in the Ohio Union South Garage (open to visitors 24/7), walk north along College Rd. to enter the south doors of the Timashev Music Building. Weigel Auditorium is located on the second floor at the far south end of the building. An open stairway located just inside the south doors leads to the hall. If an elevator is needed, travel through the Music Commons at the south end of the building, to the hallway to the right of the restrooms. Follow the hallway through the double doors to the Weigel Auditorium elevator. Driving and Parking Instructions 
Weigel Auditorium
School of Music
music@osu.edu
America/New_York
public
Description
The Ohio State Jazz Ensemble and headliner artist Carmen Bradford perform as part of the 46th Annual Ohio State Jazz Festival. Michael Smith, conductor.
This event is free and open to the public. No ticket required.
Livestream broadcast begins at 8 p.m.
Access the digital Concert program before, during or after the event. No paper programs will be distributed.
2022 Grammy Nominee, and recipient of the Los Angeles Jazz Society's Jazz Vocalist Award, Carmen Bradford, was discovered at age 22 and hired by William "Count" Basie; she was the featured vocalist in the legendary Count Basie Orchestra for nine years. She has since performed and/or recorded with countless artists around the world. Currently, Carmen Bradford's love for working with big bands and symphony orchestras across the world is keeping her very busy, as she pays tribute to the great Ella Fitzgerald in her her show called "A Century of Ella" created and conducted by jazz great Jeff Tyzik. Carmen Bradford and the incredible trumpeter/vocalist Byron Stripling also pay tribute to the greats in their show titled "Ella and Louis" for which they've received rave reviews. Read more.
All events are subject to change.
---
GETTING HERE
While the new building for Theatre, Film and Media Arts remains under construction, the north side of the Timashev Music Building remains closed. 
Park in the Ohio Union South Garage (open to visitors 24/7), walk north along College Rd. to enter the south doors of the Timashev Music Building.
Weigel Auditorium is located on the second floor at the far south end of the building. An open stairway located just inside the south doors leads to the hall.
If an elevator is needed, travel through the Music Commons at the south end of the building, to the hallway to the right of the restrooms. Follow the hallway through the double doors to the Weigel Auditorium elevator.
Events Filters:
---