Image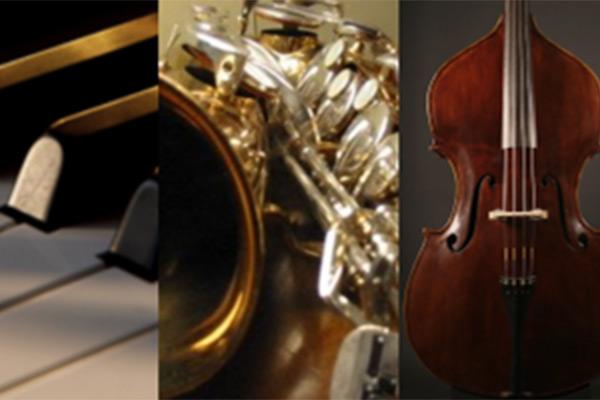 March 25, 2023
9:00AM - 4:00PM
Location
Weigel Auditorium
Date Range
Add to Calendar
2023-03-25 09:00:00
2023-03-25 16:00:00
Jazz Festival: High School Jazz Band Day
As part of the 46th Annual Ohio State Jazz Festival (March 22–26), high school jazz combos and big bands of all ability levels are invited to attend on Saturday, March 25. All registered bands will present a 15-minute performance. Each band will receive written constructive feedback from Jazz Studies faculty and festival artists as well as a brief private clinic following their performance. We are excited to welcome thirteen high school big bands this year. The performances, concluding with the Ohio State Jazz Ensemble, are free and open to the public. No tickets required.Band Schedule Visit High School Jazz Band Day. All events are subject to change. GETTING HERE While the new building for Theatre, Film and Media Arts remains under construction, the north side of the Timashev Music Building remains closed.  Park in the Ohio Union South Garage (open to visitors 24/7), walk north along College Rd. to enter the south doors of the Timashev Music Building. Weigel Auditorium is located on the second floor at the far south end of the building. An open stairway located just inside the south doors leads to the hall. If an elevator is needed, travel through the Music Commons at the south end of the building, to the hallway to the right of the restrooms. Follow the hallway through the double doors to the Weigel Auditorium elevator. Driving and Parking Instructions
Weigel Auditorium
OSU ASC Drupal 8
ascwebservices@osu.edu
America/New_York
public
Date Range
Add to Calendar
2023-03-25 09:00:00
2023-03-25 16:00:00
Jazz Festival: High School Jazz Band Day
As part of the 46th Annual Ohio State Jazz Festival (March 22–26), high school jazz combos and big bands of all ability levels are invited to attend on Saturday, March 25. All registered bands will present a 15-minute performance. Each band will receive written constructive feedback from Jazz Studies faculty and festival artists as well as a brief private clinic following their performance. We are excited to welcome thirteen high school big bands this year. The performances, concluding with the Ohio State Jazz Ensemble, are free and open to the public. No tickets required. Band Schedule Visit High School Jazz Band Day. All events are subject to change. GETTING HERE While the new building for Theatre, Film and Media Arts remains under construction, the north side of the Timashev Music Building remains closed.  Park in the Ohio Union South Garage (open to visitors 24/7), walk north along College Rd. to enter the south doors of the Timashev Music Building. Weigel Auditorium is located on the second floor at the far south end of the building. An open stairway located just inside the south doors leads to the hall. If an elevator is needed, travel through the Music Commons at the south end of the building, to the hallway to the right of the restrooms. Follow the hallway through the double doors to the Weigel Auditorium elevator. Driving and Parking Instructions
Weigel Auditorium
School of Music
music@osu.edu
America/New_York
public
Description
As part of the 46th Annual Ohio State Jazz Festival (March 22–26), high school jazz combos and big bands of all ability levels are invited to attend on Saturday, March 25.
All registered bands will present a 15-minute performance. Each band will receive written constructive feedback from Jazz Studies faculty and festival artists as well as a brief private clinic following their performance.
We are excited to welcome thirteen high school big bands this year. The performances, concluding with the Ohio State Jazz Ensemble, are free and open to the public. No tickets required.
Band Schedule
Visit High School Jazz Band Day.
All events are subject to change.
---
GETTING HERE
While the new building for Theatre, Film and Media Arts remains under construction, the north side of the Timashev Music Building remains closed. 
Park in the Ohio Union South Garage (open to visitors 24/7), walk north along College Rd. to enter the south doors of the Timashev Music Building.
Weigel Auditorium is located on the second floor at the far south end of the building. An open stairway located just inside the south doors leads to the hall.
If an elevator is needed, travel through the Music Commons at the south end of the building, to the hallway to the right of the restrooms. Follow the hallway through the double doors to the Weigel Auditorium elevator.
Events Filters:
---