Image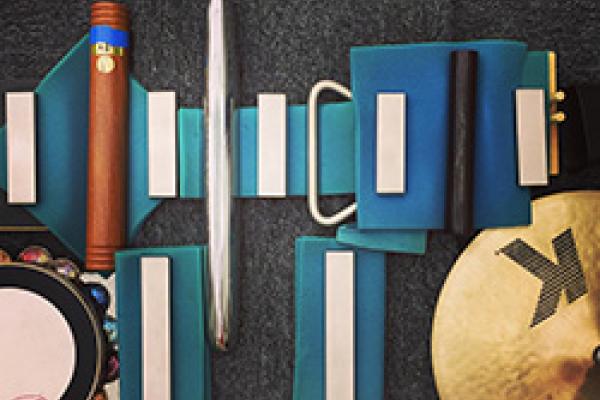 March 31, 2023
8:00PM - 9:30PM
Location
Timashev Recital Hall, 1900 College
Date Range
Add to Calendar
2023-03-31 20:00:00
2023-03-31 21:30:00
CMF: Ohio State Composition Faculty Recital
School of Music composition faculty present a variety of their 21st-century works as part of the Contemporary Music Festival, March 29–April 1. Composers, selections and performers: Thomas WellsRecitative and Aria for alto saxophone and piano (Michael Rene Torres and Jiung Yoon)Hommage à Per Nørgård for electroacoustic sound Vera StanojevicVoyage I  for piano and electroacoustic sound (V. Stanojevic, piano)Broken Mirrors for snare drum and electroacoustic sound (featuring Joseph Krygier, percussion)Game of Shadows for alto saxophone duet (M. Torres and Frankie Wantuch) Michael Rene TorresWater Vignettes: Ten Miniatures for fixed media and videoin the midst of chaos for alto saxophone (M. Torres) This event is free and open to the public. No ticket required. Access the digital Recital program before, during or after the performance. No paper programs will be distributed. All events are subject to change. GETTING HERE While the new building for Theatre, Film and Media Arts remains under construction, the north side of the Timashev Music Building remains closed.  Park in the Ohio Union South Garage (open to visitors 24/7), walk north along College Rd. to enter the south doors of the Timashev Music Building. The Timashev Recital Hall is located on the ground floor, at the far north end of the building. Driving and Parking Instructions 
Timashev Recital Hall, 1900 College
OSU ASC Drupal 8
ascwebservices@osu.edu
America/New_York
public
Date Range
Add to Calendar
2023-03-31 20:00:00
2023-03-31 21:30:00
CMF: Ohio State Composition Faculty Recital
School of Music composition faculty present a variety of their 21st-century works as part of the Contemporary Music Festival, March 29–April 1. Composers, selections and performers: Thomas Wells Recitative and Aria for alto saxophone and piano (Michael Rene Torres and Jiung Yoon) Hommage à Per Nørgård for electroacoustic sound Vera Stanojevic Voyage I  for piano and electroacoustic sound (V. Stanojevic, piano) Broken Mirrors for snare drum and electroacoustic sound (featuring Joseph Krygier, percussion) Game of Shadows for alto saxophone duet (M. Torres and Frankie Wantuch) Michael Rene Torres Water Vignettes: Ten Miniatures for fixed media and video in the midst of chaos for alto saxophone (M. Torres) This event is free and open to the public. No ticket required. Access the digital Recital program before, during or after the performance. No paper programs will be distributed. All events are subject to change. GETTING HERE While the new building for Theatre, Film and Media Arts remains under construction, the north side of the Timashev Music Building remains closed.  Park in the Ohio Union South Garage (open to visitors 24/7), walk north along College Rd. to enter the south doors of the Timashev Music Building. The Timashev Recital Hall is located on the ground floor, at the far north end of the building. Driving and Parking Instructions 
Timashev Recital Hall, 1900 College
School of Music
music@osu.edu
America/New_York
public
Description
School of Music composition faculty present a variety of their 21st-century works as part of the Contemporary Music Festival, March 29–April 1. Composers, selections and performers:
Thomas Wells
Recitative and Aria for alto saxophone and piano (Michael Rene Torres and Jiung Yoon)
Hommage à Per Nørgård for electroacoustic sound
Vera Stanojevic
Voyage I  for piano and electroacoustic sound (V. Stanojevic, piano)
Broken Mirrors for snare drum and electroacoustic sound (featuring Joseph Krygier, percussion)
Game of Shadows for alto saxophone duet (M. Torres and Frankie Wantuch)
Michael Rene Torres
Water Vignettes: Ten Miniatures for fixed media and video
in the midst of chaos for alto saxophone (M. Torres)
This event is free and open to the public. No ticket required.
Access the digital Recital program before, during or after the performance. No paper programs will be distributed.
All events are subject to change.
---
GETTING HERE
While the new building for Theatre, Film and Media Arts remains under construction, the north side of the Timashev Music Building remains closed. 
Park in the Ohio Union South Garage (open to visitors 24/7), walk north along College Rd. to enter the south doors of the Timashev Music Building.
The Timashev Recital Hall is located on the ground floor, at the far north end of the building.
Events Filters:
---