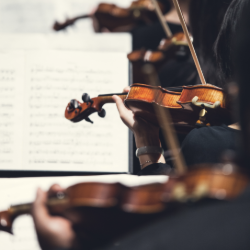 Six student soloists and a student composer who have been selected by competition will be featured with The Ohio State University Symphony Orchestra on the annual Concerto Concert to be presented on Tuesday, Feb. 25 at 8 p.m. in Hughes Hall Auditorium.
Composition student Cooper Wood's new work, ...of the light, will receive its World Premiere performance. Student soloists are Dallas Carpenter, double bass; Erin Dowler, clarinet; Jimmy Perera, double bass; Nic Watkins, baritone; Yushan Ying, piano and Daniel Zipin, flute.
Miriam Burns, conductor; Daniel Farr (Gounod) and Xin Su (Weber), DMA student conductors. This event is free and open to the public.
---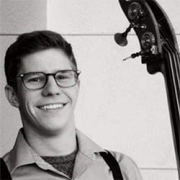 DALLAS CARPENTER • Double Bass Concerto No. 2 in B minor, I. Allegro moderato, Giovanni Bottesini • Dallas Carpenter is a first year master's student in bass performance. He is originally from Tucson, AZ where he received his Bachelor of Music in bass performance from the University of Arizona. During summers, he plays in the pit orchestra for Opera in the Ozarks. He currently studies with Prof. Barry Green at Ohio State.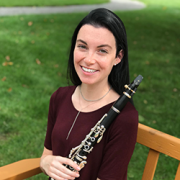 ERIN DOWLER • Clarinet Concerto No. 2 in E-flat major, III. Alla Polacca, Carl Maria von Weber • Erin Dowler is currently completing her first year of graduate study in clarinet performance at Ohio State. Originally from Syracuse, NY, Erin completed her bachelor's degree at Ithaca College, studying music education and clarinet performance. She would like to give special thanks to her former and current teachers, including Mr. Gerry Zampino, Dr. Richard Faria, Dr. Caroline Hartig and Dr. Elsa Ludwig-Verdehr, who was especially helpful in the preparation of this concerto.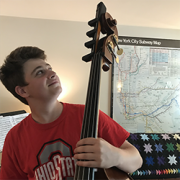 JIMMY PERERA • Double Bass Concerto in B minor, I. Allegro and II. Andante, Serge Koussevitsky • Jimmy Perera is a first-year undergraduate student majoring in double bass performance. A resident of Upper Arlington, he has played bass since the 4th grade and throughout his years at Barrington Elementary, Jones Middle School and Upper Arlington High School. He studied privately with Garry Wasserman through middle and high school and currently studies with Prof. Barry Green. Motivated to continually improve his bass playing and his enthusiasm for performing, Jimmy states, "It's an amazing opportunity to perform with the Symphony Orchestra as a soloist and be able to share with an audience as well as my family and friends."
NIC WATKINS • "Avant de quitter ces lieux" from Faust, Charles Gounod • Nic Watkins, vocal performance, is a graduating senior from Delaware, Ohio. Last year Nic performed multiple operatic roles including Marullo in Rigoletto with Opera Project Columbus, Il Conte in Mozart's Le Nozze di Figaro with Ohio State, and Masetto in Don GIovanni with Prague Summer Nights where he performed in the Estates theater, in which Mozart premiered the work. Nic plans to pursue a career singing opera after receiving the Bachelor of Music degree this spring.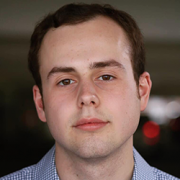 COOPER WOOD • ...of the light • Hailing from Madison, Ohio, Cooper Wood is a third-year music composition major at Ohio State; he is a student of Dr. Thomas Wells and Dr. Jan Radzynski. Cooper is recipient of The Marilyn and Donald Harris Scholarship for 2020–2021. Prior to graduating from high school, he studied composition and theory with alumnus Dr. Matthew Saunders at Lakeland Community College. His work has been performed all across Ohio, and in addition to receiving a commission for a new work by the Lakeland Civic Orchestra in 2016, his piano trio Ghost Interlude was selected as the winner of the Cleveland Composers Guild Young Composers Contest in 2017. From 2014 to 2017, Cooper served as the Resident Youth Musical Director for the nationally-awarded Mercury Theater Company at Notre Dame College, and currently serves as composer-in-residence with the Ohio State Symphony Orchestra and as pit orchestra director for Off The Lake Productions.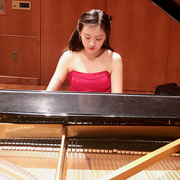 YUSHAN YING • Piano Concerto No. 2 in F major, I. Allegro, Dmitri Shostakovich • Yushan is a first-year graduate student pursuing both the MA in piano pedagogy and MM in piano performance. She is from Kunming, China — a beautiful city also known as the "Spring City." Currently a student of Dr. Caroline Hong, Yushan has been studying in the United States for eight years.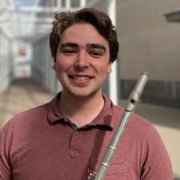 DANIEL ZIPIN • Fantaisie for Flute and Orchestra, Georges Hüe • Daniel Zipin is a third-year music education student from Baltimore, Maryland. A scholarship student of Katherine Borst Jones, Daniel has served on the board of Ohio State's NAfME Chapter and performed in the Ohio State Wind Symphony, Symphony Orchestra and the Flute Troupe. A conducting student of Miriam Burns, Daniel serves as associate conductor of the Buckeye Philharmonic, where he enjoys the unique experience of leading a student-run college music ensemble. Daniel has served on the staff of the annual High School Flute Workshop and has completed various teaching placements throughout Columbus-area schools.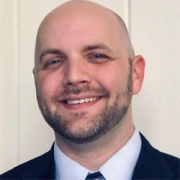 DANIEL K. FARR, guest conductor (Gounod) • First-year DMA student in wind conducting; graduate teaching associate • Daniel Farr grew up in Lakeland, FL and earned his Bachelor and Master of Music Education degrees from The Florida State University. Farr spent ten years as a high school band director in Florida. Bands under Mr. Farr's direction have consistently earned Superior ratings at District and State Music Performance Assessments. Mr. Farr is actively sought after as a clarinetist, conductor and clinician.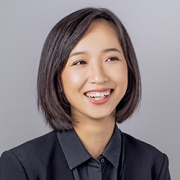 XIN SU, guest conductor (Weber) • First-year DMA student in choral conducting • Originally from Xiamen, China, Xin enjoys sharing her passion, energy and love through music. As a conductor, Xin is the current artistic director of Clintonville Community Choir and music director of the a cappella group Ohio Afternoon. Previously, she has conducted the Chinese Folk Music Orchestra at Ohio State; before coming to the United States, she was the assistant conductor of University Choir at Beijing Normal University, China.