Tuesday, April 17, 2018 - 8:00pm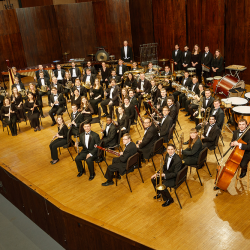 The ensemble presents "Leonard Berstein's Big Bodacious Birthday Bash (1918–2018)." Selections include Bernstein's Overture to Wonderful Town, Divertimento, Symphonic Dances from West Side Story; and Aaron Copland's El Salón México. Russel C. Mikkelson, conductor; Todd Fessler, guest conductor (Copland).
This event is free and open to the public. No ticket required.