Saturday, February 16, 2019 - 4:00pm
Mershon Auditorium, 1871 N. High St.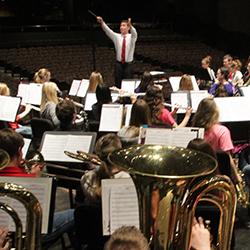 The 2019 festival will host more than 360 outstanding seventh- and eighth-grade musicians, each of whom is selected to participate in one of four equal-ability honor bands. Guest composer/conductor Larry Clark and guest conductor Patricia Meeks join Ohio State conductors Christopher Hoch, Phillip Day and David Hedgecoth to lead this grand finale concert. The world premiere of a new composition by Larry Clark, Buckeye Rondo, will be performed by both eighth grade bands. Scott A. Jones, festival director.
The concert is free and open to the public. No ticket required.