Image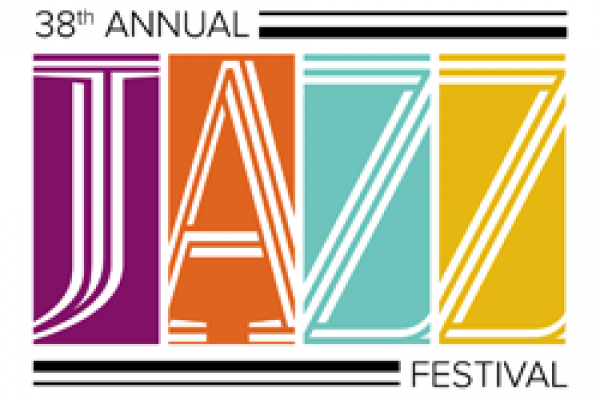 April 9, 2015
All Day
Location
Weigel Auditorium
April 10, 2015
All Day
Location
Weigel Auditorium
April 11, 2015
All Day
Location
Weigel Auditorium
April 12, 2015
All Day
Location
Weigel Auditorium
Description
Celebrating America's art form with 4 days of faculty and student ensemble performances, local and nationally known jazz headliners, and jazz days featuring visiting college and high school jazz bands.
All Jazz Festival performances are FREE except the Sunday headliner concert at 7 p.m. Advance ticket sales are available on campus through the Ohio State Theatre Box Office, located in Room 1078 Drake Performance and Event Center at 1849 Cannon Drive. Hours: Monday-Friday, 10 a.m.-4 p.m. Call (614) 292-2295 or order online through Ticketmaster. Credit cards accepted. Tickets will be available at the door (cash only); Weigel box office opens one hour prior to the concert.
---
Thursday, April 9  |  Divas Night  |  The leading ladies of Columbus jazz (L-R): Mary McClendon, Louise Salvador and Jeanette Williams.
---
Friday, April 10  |  8 p.m.  |  Ohio State Jazz Ensemble  |  Free
Directed by Ted McDaniel, with Kris Johnson, trumpet.
Join us for an evening of big-band music including The Intrepid Fox, Freddie Hubbard/arr. Eric Richards; Mid-Riff, Billy Strayhorn; Catch the Rebop Trane, Neal Finn; You Stepped Out of a Dream, Brown and Kahn/arr. Rob Lussier; You're My Everything, Thomas Matta; What You Dealing With, Wycliffe Gordon; and Ted McDaniel's arrangement of Miles Davis' Seven Steps to Heaven. The ensemble joins guest artist Kris Johnson in a performance of his composition All My Love and his arrangements of Miles Davis' So What and Wayne Shorter's Yes or No?
---
Saturday, April 11  |  11 a.m.-4 p.m.  |  College Jazz Band Day  |  Free
Performances by Ohio State ensembles: Combo A (11 a.m.), Combo B (11:25), Combo C (11:50), Latin Jazz Combo (12:15), New Orleans Traditional and Swing Combo (12:40); Jazz Fusion Combo (1:05); Art Blakey Combo (1:30), Jazz Workshop Ensemble (1:55), Jazz Lab Ensemble (2:30); times listed are approximate. Special guest band performance at 3 p.m. by the Oberlin College Conservatory Jazz Band directed by Dennis Reynolds.
Saturday, April 11  |  8 p.m.  |  Mark Flugge Tribute Concert  |  Free
A musical tribute to Mark Flugge by former students Jeff Benatar, Lucas Holmes
and Robert Mason.
---
Sunday, April 12  |  10 a.m.-4 p.m.  |  High School Jazz Band Day (Schedule)  |  Free
The School of Music welcomes nine participating bands and their directors. Bands will perform in Weigel Auditorium as follows (scheduled times are approximate): Columbus Youth Studio Jazz Ensemble (10 a.m.) and the Columbus Youth Jazz Ensemble (10:25), Mark Donavan, director; Columbus Alternative High School Jazz Band (10:50), Samuel Richardson, director; Kings High School Jazz Band of Cincinnati (11:15), Joe Polen; Columbus Ft. Hayes Combos II (11:40) and I (12:05 p.m.), Jeff McCargish; SCPA Super Jazz Band of Cincinnati (12:30), Erwin Stuckey; Logan High School Jazz Ensemble of Bellefontaine (12:55), Myles Bowers; and Hudson High School Jazz Ensemble I (2:20), Roberto Iriarte. The Ohio State Jazz Ensemble will play a short concert at 3 p.m. These performances are free and open to the public.
Sunday, April 12  |  7 p.m.  |  HEADLINER JAZZ CONCERT : Manner Effect
Fresh from their debut at NYC's Blue Note, Manner Effect jazz/pop quintet serves up a mix of musical styles. Advance ticket sales: (614) 292-2295 (credit card) or at the door (cash only); Weigel box office opens one hour prior to concert.

---