ONLINE (Registration required)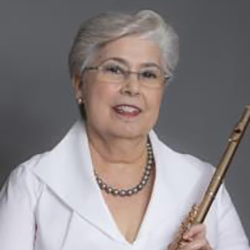 Join us for the 2021 COFA Virtual Flute Festival! Competitions, sessions, performances and more!
This year, we welcome guest artist Trudy Kane! She will perform a stunning recital including a work by Valerie Coleman, as well as hosting a virtual master class and lecture.
Trudy Kane is the former associate professor of flute at the Frost School of Music, University of Miami. She joined the faculty of the Frost School in 2008 after 32 years as principal flutist of the Metropolitan Opera Orchestra. She performs regularly as a part of Festival Miami, as well as solo and chamber music concerts. Her article "VIBRATO!" is published in the newest Flute Association Pedagogy book, and she has been interviewed by and written articles for Flute Talk. Professor Kane has also been active doing master classes around the country, and in 2012 was the featured guest at the Southeast Michigan Flute Fair. She performs and or lectures every year at the Florida Flute Convention. In the summer of 2014, she was the featured guest at Amy Porter's "Anatomy of Sound." Ms. Kane has soloed with the Frost Wind Ensemble performing Joel Puckett's "Shadows of Sirius" at the university and at the National CBDNA in Seattle. She performed it again at the regional CBDNA with the New World School wind ensemble. She soloed again with the Frost Wind Ensemble in David Maslanka's "O Wind, O Stars." She soloed with the Frost Saxophone Ensemble in Godard's "Suite" and performed the world premiere of a new piece by Ellen Zwillich for flute and strings in April. This piece was commissioned by the Frost School for her.
Our expert sessions this year will include Piccolo Basics, Extended Techniques, Body Mapping, World Flutes...and so much more! Due to the state of things, this year we are doing a virtual format. All sessions and concerts will be held via Zoom — the links are included with registration, as well as the pre-recorded sessions.
Registration for students, Ohio State faculty/staff, and senior citizens is FREE. Only $12 for non-students!
Questions? Contact Katherine Borst Jones, professor of flute.