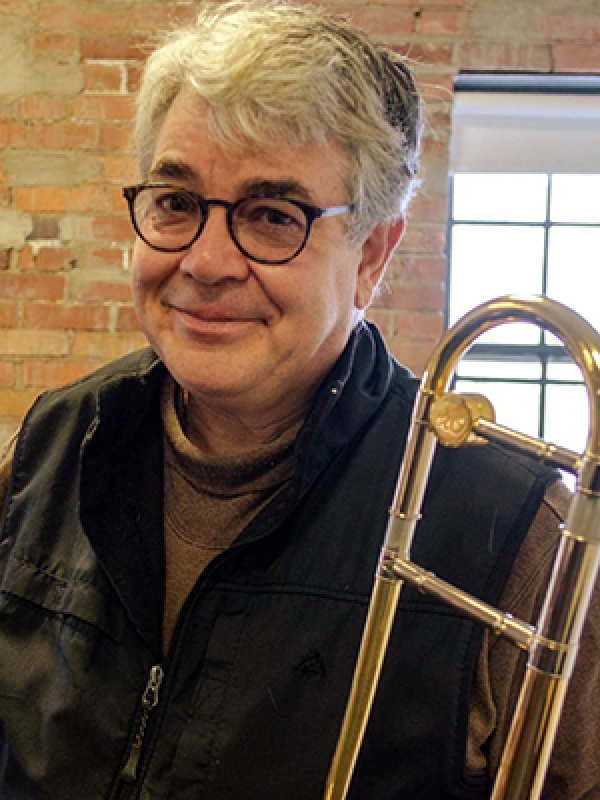 James Masters
Associated Faculty, Jazz Trombone
Areas of Expertise
Jazz Trombone
Vocal Jazz
Combos, ensembles
Education
Columbia College, Chicago
Youngstown State University
Trombonist Jim Masters was born into a very musical family in Saint Charles, Illinois. His father, a trombonist, encouraged him to take up the trombone at age six. Inspired by his uncle, a band leader and trumpeter, 13-year-old Jim started a Dixieland/Tijuana Brass cover band with some friends from church. The band, called Brass Leaf, played on a riverboat in Saint Charles.

In 1971 Masters moved to Ohio, where he started a big band at his high school and began studying trombone with Dr. Vern Kagarice. He then was recruited to Youngstown State University where he was a member of its award-winning Jazz Ensemble under the direction of Tony Leonardi. He was a member of the first Chicago Jazz Ensemble at Columbia College. He studied with Bill Russo, Vern Kagarice, Tony Leonardi and Jeff Childs.

In 1979 Masters and his wife moved to New York City, where Jim embarked on a career performing music. He toured with the Buddy Rich Big Band and the Widespread Jazz Orchestra, and has played with Mel Lewis, Candido, Jorge Anders, Roy Gerson, Dave Lalama, Maria Schneider/John Fedchock, Tito Puente and many others. He led bands for many corporate and society events. As a vocalist he has recorded many jingles, standards and originals and is often called upon for his warm vocal style. He is a song writer and composer. His song "In St. Charles" was recently named the official song of his home town.

Masters began subbing for Gary Carney in the Columbus Jazz Orchestra in 1992 and became an official member of the band in 2001. He is founder and leader of the American Jazz Experience (AJE), a jazz education program presented by the Jazz Arts Group. He also presents Columbus Jazz Orchestra's program "All That Jazz." In the CJO guest artists have included James Moody, Benny Carter, Louie Bellson, Dave Weckl, Harold Jones, John Clayton, Slide Hampton, Bill Charlap and many others. Masters' eclectic musical influences draw upon many genres, from Bach and Palestrina to Basie, Ellington, Sinatra, Bird, J. J. Johnson, Dizzy Gillespie, Louis and Ella...the list goes on. He loves the music and composers of the American Songbook.
Masters has served as lecturer at The Ohio State University since 1994; he loves teaching and is inspired by his students.
In 2021, Masters received the Lifetime Achievement Award from the Columbus Symphony Orchestra's Annual Music Educator Awards.