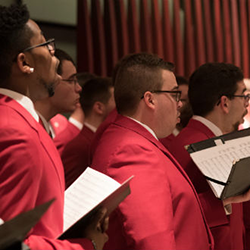 MGC takes NYC
On January 9, the Men's Glee Club performed in New York City with the University Glee Club of New York City at Lincoln Center in Alice Tully Hall. Directed by Robert Ward, associate professor in the School of Music, they sang selections from the best of men's choral tradition, including a new arrangement of a "Big Ten Medley," which combined all 14 schools' fight songs into one piece; "Farther Sail!", by Eric Helmuth; Laudate Dominum by Marc-Antoine Charpentier; "Unter Dyne Vayse Shtern," a Brant Adams arrangement; and "Didn't My Lord Deliver Daniel," arranged by Aaron Dale.
Club president Joe Chekanoff said MGC was very excited to perform in the beautiful Alice Tully Hall with the University Glee Club of NYC and gave an amazing concert. This performance had a special meaning to MGC because it was arranged by one of its alumni, Tim Sarsany.
Read more in Arts and Sciences News.