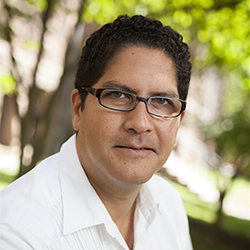 School of Music alumnus Alejandro L. Madrid (PhD 2003, musicology), has been awarded the prestigious 2017 Edward J. Dent Medal from the Royal Musical Association in the U.K.
Named for the distinguished scholar and musician Edward J. Dent (1876-1957), the Royal Musical Association (RMA) has presented the award annually since 1961 to a recipient selected for his or her outstanding contribution to musicology internationally. A list of candidates is drawn up by the Council of the Association and the Directorium of the International Musicological Society.
In giving the Dent Medal to Madrid, professor of musicology and director of undergraduate studies at the Cornell University School of Music, the RMA hails him as "a musicologist of extraordinary intellectual range and breadth…the sheer range of his international prizes bears witness to the distinction of his scholarship in popular music studies, Latin American studies and international musicology alike."
Madrid is the author, co-author and editor of eight books since 2008; his last monograph on the Mexican microtonalist Julián Carrilo, In Search of Julián Carrillo and Sonido 13 (New York, Oxford University Press, 2015) won the 2016 Robert M. Stevenson Award (AMS) and the 2016 Humanities Book Award (Latin American Studies Association); his 2009 monograph, Sounds of the Modern Nation. Music, Culture and Ideas in Post-Revolutionary Mexico (Philadelphia, Temple University Press, 2009) was a cultural and analytical study of avant-garde and modernist music scenes and ideas in 1920s Mexico and, in its Spanish version, was awarded the 2005 Casa de las Américas International Musicology Prize. This book was based on his Ohio State dissertation.
His first English-language monograph, Nor-Tec Rifa! Electronic Dance Music from Tijuana to the World (New York, Oxford University Press, 2008), was a study of the role of globalization, new technologies and performance in the development of electronic dance music scenes within the contested cultural area of the U.S.-Mexico border, and was awarded the 2009 Woody Guthrie Book Award (International Association for the Study of Popular Music [IASPM]-US). His 2011 edited collection Transnational Encounters. Music and Performance at the U.S.-Mexico Border (New York, Oxford University Press, 2011) won the 2012 Ruth A. Solie Award from the American Musicological Society.
"My PhD studies at the Ohio State School of Music defined my scholarly and professional path," Madrid said. "Having studied in the musicology area with some of the most prominent and far-sighted scholars in the discipline, I was exposed to a holistic approach, emphasizing diverse training in philology, ethnomusicology, criticism and cultural theory."
Professor Arved Ashby, Ohio State School of Music professor, musicology area head, and Madrid's PhD advisor, said, "This is an honor for our distinguished alumnus. The Dent Medal is one of the highest accolades in the discipline worldwide, and as a scholar of very broad scope and tireless industry, Alejandro is more than deserving."

Of his dissertation defense at Ohio State, Madrid recalls, "Someone expressed that I was trained for a type of musicology that may exist in the future." He says, "I am now glad that my scholarship bears witness to the fact that the future always arrives."