September 15, 2021
Latin American Music Celebration
Image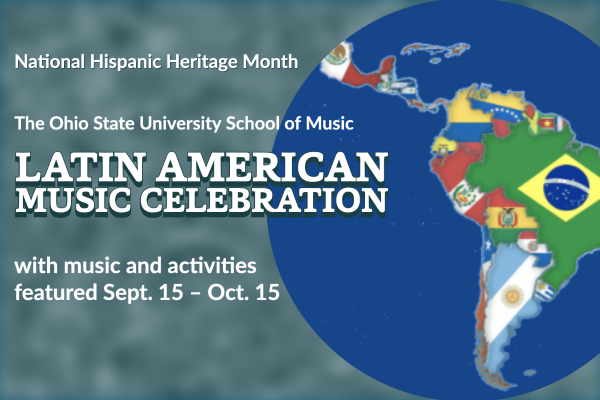 Description
In celebration of National Hispanic Heritage Month (Sept. 15 – Oct. 15), the School of Music presents a series of musical experiences that highlight the culture of Latin America. Co-sponsored by The Center for Latin American Studies.
The series includes musical compositions by renowned Latinx composers featured in concerts by Ohio State student ensembles, as well as guest artist lecture presentations and demonstrations.
 
The Latin American Music Celebration 2021 (LAMC 2021)

Guest artist: Oscar Rodrígues Do Campo, harp
Sunday, Oct. 24  •  2 p.m.  •  Weigel Hall 174
Harp professor Oscar Rodrígues Do Campo, National University for the Arts of Buenos Aires, Argentina, presents a master class with Ohio State harp students and students of guest teachers. A variety of solo compositions to be performed will be by French composers Debussy and Tournier, English David Watkins,  transcriptions of works by Handel and Haydn, and as a tribute to our guest-Argentinian composer, Alberto Ginastera. Also included in the afternoon will be The Ohio State Harps, along with student guest harpists, in ensemble performing Hispanic music by Mateo Albeniz and Carlos Salzedo.
MUSIC 3351  •  World of Music
Sept. 22  •  10:20 a.m.  •  Hughes Hall Auditorium
The Ohio State community is invited to visit this special class presentation.
Instructor: Dr. Katie Graber
Guests from Argentina: Anabella Petronsi, voice and Fabio Mazzitelli, flute
Pianist: Xin Su
Symphony Orchestra
Sept. 22  •  8 p.m.  •  Hughes Hall Auditorium
This performance by the Symphony Orchestra includes Ginastera's Ballet Suite from Estancia.
Latin American Music Celebration Concert 
Sept. 28  •  8 p.m.  •  Hughes Hall Auditorium
Enjoy selections representing the Latin American musical heritage presented by School of Music ensembles and soloists. Selections by Lecuona/Nestico, Chausson, Jobim, Piazzola, Carrillo, Guastavino, Nunó/Bocanegra, Villa Lobos, Lauro, Yenque and Quintero, among others. Performing groups and soloists include Collegiate Winds, Women's Glee Club, Latin Jazz Combo, Flute Troupe, Ohio State Chorale, Alpha Psi Lambda; Fabio Mazzitelli, flute; Anabella Petronsi, voice; Ben Shaheen, percussion, and Trevor Healy, horn.
Symphonic Band and Wind Symphony
Oct. 6  •  7:30 p.m.  •  Mershon Auditorium
On this shared concert, the Wind Symphony performs music from around the world, including Spanish composer Oscar Navarro's exciting Downey Overture and Aaron Copland's impressions of Mexico presented in his Three Latin American Sketches.
Choral Collage
Oct. 10  •  8 p.m.  •  Livestreamed ONLY, from Hughes Hall Auditorium
Chorale will perform "Estrela é lua nova" by Heitor Villa-Lobos. Women's Glee Club will perform "Hébé" by Ernest Chausson, arranged by Mari Esabel Valverde.
All events are free and open to the public, and are subject to change.
---