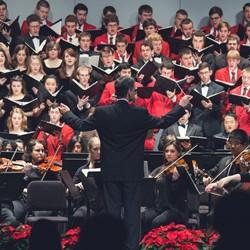 The School of Music marked the end of a successful autumn semester with its annual Music Celebration Concert on Friday, November 30 in Mershon Auditorium. This year's concert represented the 26th year of this annual celebration of the breadth and depth of musical talent at Ohio State.
The concert is anchored by the school's larger ensembles, with additional performances by School of Music studios, chamber groups and solos. It is performed in a "collage" style, with performances appearing seamlessly, without applause, throughout the auditorium and balcony.
While the concert is held right before the holiday season, the event itself is a celebration of the School of Music as a whole; some ensembles and soloists perform holiday selections, while others present works of varied styles and origin.
The initial idea for the celebration concert was introduced by Professor Emeritus James Gallagher, who at the time was director of choral studies. The first "celebration" in 1993 commemorated the 25th "Silver" Anniversary of the former College of Arts, before it merged with the four other legacy colleges to become the College of Arts and Sciences in 2010.
A favorite tradition associated with the Music Celebration Concert is the Celebration Youth Concert — a morning presentation for students in grades 4–12 throughout the state of Ohio. The concert sells out each year, with many of the groups in attendance led by School of Music alumni who value returning to their alma mater to share one of their favorite college memories with their students.
Watch music.osu.edu for announcements of the 27th Music Celebration and Music Celebration Youth concerts, tentatively scheduled for Tuesday, December 3, 2019 in Mershon Auditorium.
— Contributed by Emily Kapp
Strategic Communications/Marketing student (2018)
The Black Sheep Online, chief campus editor