Robert J. Ward, Conductor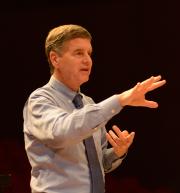 Robert J. Ward currently serves as director of Choral Studies at The Ohio State University where he conducts the Men's Glee Club and University Chorus. He also teaches courses in conducting and choral literature. Prior to his appointment at Ohio State, Dr. Ward was for sixteen years a member of the music faculty at Oklahoma State University. He has been honored with invitations to present concerts and lectures for National ACDA, National Collegiate Choral Organization. North Central Division ACDA, Central Division ACDA, International Kodaly Educators, Organization of American Kodaly Educators, Texas Music Educators Association and Texas Choral Directors Association, as well as Oklahoma, Kansas, Missouri, Mississippi, Ohio, Utah, Arkansas, Louisiana and West Virginia Choral Directors Associations. He is currently the editor of a choral series published by Santa Barbara Music Publishers.
Casey L. Cook, Accompanist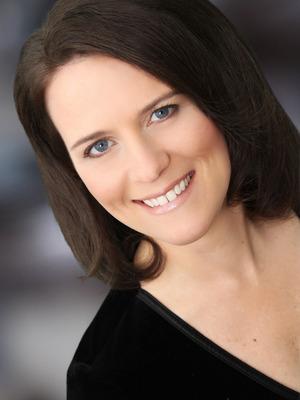 Casey L. Cook began piano study at age four and was accompanying by age ten. Two of her most influential teachers were Mary Craig Powell, who nurtured her musical growth for 15 years, and Dr. Nelita True at the Eastman School of Music.
An accompanist for over 25 years, Ms. Cook has been honored to accompany national and regional honor choirs for the American Choral Directors Association, the Ohio Music Educators Association and the Ohio Choral Directors Association. In the School of Music, Ms. Cook serves as the principal accompanist for the choral program. Prior to coming to Ohio State, Cook accompanied choirs at Capital University and Bexley High School.
In addition to her academic appointment, Cook has served as pianist since 2000 for the Columbus Symphony Orchestra Chorus. This position has enabled her to play for some of the finest conductors and soloists in the world. In 2011 she joined the CSO as an Associate member of the orchestra.
Officers 2017 – 2018
Henry Newberg, Vice-President of Operations
Emerson Slicer, Vice-President of Musicianship
Adam Othman, President
Dane Truelson, Vice-President of Finance
John Gudz, Vice-President of Communications
Committee Members
Musicianship: Ryan Adams, Jacob Conrad, Parker Kronen, Jacob Panteloukas, Alex Port, Tyler Robertson
Finance: Ethan Hitch, Brighton Hummer, Taylor Rogers, Wesley Henkel
Communications: Mark Gnatowski, Nathan Hensley, Nashad Rahman, Jacob Soles, Kris Waninger
Operations: Cole Biedenharn, Matt Kerr, Jesse Sykes, Dylan Yurco
---
MGC 2017-18 Roster
Tenor I: Ryan Adams, Josh Barrus, Jake Conder, Kyle Hawk, Andy Hosler, Ricky Krause, Mason Lautzenheiser, Conner Limbaugh, Henry Neff, Henry Newberg, Andrew Newman, Jacob Panteloukas, Alex Port, Austin Silva, Jesse Sykes, Marshall Verbsky, Charles Vincent-Barr, Kris Waninger, Dylan Yurco. Tenor II: Matthew Burns, Ben Chiappone, Scott Fasone, Jamie Fesko, Colin Gay, Carter Grimes, Nathan Hensley, Zach Irwin, Henry Kangas, Parker Kronen, Shawn Lopez, Nathan Moses, William Patton, Nashad Rahman, Michael Rizzoni, Taylor Rogers, Eric Schanzlin, Noah Shireman, Curtiss Shore, Mitchell Wendt, Trey Wilson, Christopher Wright. Bass I / Baritone: Cole Biedenharn, Timothy Browning, Nick Cooper, Mark Gnatowski, John Gudz, Stephen Hayden, Ethan Hitch, Brighton Hummer, Mason Illig, Alex Kibler, Andy Landrum, Adam Othman, Gannon Ritter, Tyler Robertson, Onsby Rose, Kevin Ruppert, Emerson Slicer, Alex Sprague. Bass II: Jacob Conrad, William Erickson, Garrett Everhart, Jacob Heacock, Wesley Henkel, Matthew Kerr, Justin Knueppel, Parker Kurtz, Tony Maggio, William Schott, Jacob Soles, Brian Spahnie, Adam Steere, Dane Truelson, Nic Watkins.