Image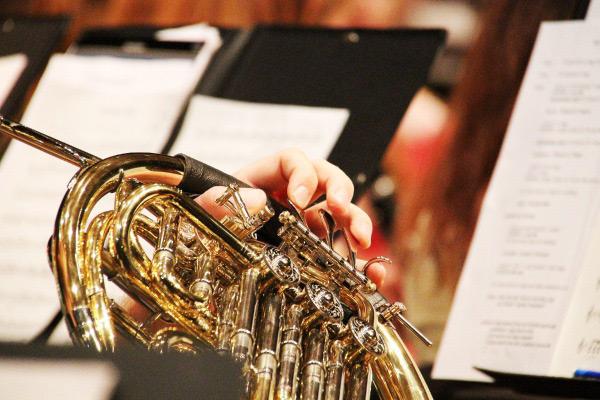 October 4, 2022
8:00PM - 9:30PM
Location
Weigel Auditorium
Date Range
Add to Calendar
2022-10-04 20:00:00
2022-10-04 21:30:00
Wind Symphony
The Wind Symphony opens this year's concert season with a diverse program beginning with a classic work by Aaron Copland: An Outdoor Overture, conducted by first-year DMA candidate, Sarah Baker. Texas composer Donald Grantham's Farewell to Gray was commissioned by the United States Military Academy Band in celebration of the Academy's 200th anniversary. Following graduation, the cadets no longer wear the distinctive gray uniform worn throughout matriculation, a significant event in each cadet's life and career. Second-year MM candidate, Alex Mondragon, will conduct. Roshanne Etezady's Anahita draws inspiration from two murals in the Assembly Chamber of the State Capitol Building in Albany, New York, completed by painter William Morris Hunt. One of these murals, The Flight of Night, depicts the Zoroastrian Goddess of the Night, Anahita, driving her chariot westward, fleeing from the rising sun. The first movement, The Flight of Night, is characterized by dramatic, aggressive gestures that are meant to evoke the terrifying beauty of the goddess herself. Movement two, Night Mares, is a scherzo-like movement that refers to the three monstrous horses that pull the chariot across the sky. In the final movement, Sleep and Repose/The Coming of Light, we hear the gentler side of the night, with a tender lullaby that ends with trumpets heralding the dawn. The popular Danzón No. 2 by Arturo Márquez will conclude the program. Russel C. Mikkelson, conductor. Access a digital Concert program before, during or after the concert. No paper programs will be distributed. All events are subject to change. GETTING HERE While the new building for Theatre, Film and Media Arts remains under construction, the North side of the Timashev Music Building remains closed.  Park in the Ohio Union South Garage (open to visitors 24/7), walk North along College Rd. to enter the South doors of the Timashev Music Building. Weigel Auditorium is located on the second floor at the far south end of the building. An open stairway located just inside the south doors leads to the hall. If an elevator is needed, walk through the Music Commons, behind the open stairway to the back hallway. Follow the hallway through the double doors to the elevator. Driving and Parking Instructions 
Weigel Auditorium
OSU ASC Drupal 8
ascwebservices@osu.edu
America/New_York
public
Date Range
Add to Calendar
2022-10-04 20:00:00
2022-10-04 21:30:00
Wind Symphony
The Wind Symphony opens this year's concert season with a diverse program beginning with a classic work by Aaron Copland: An Outdoor Overture, conducted by first-year DMA candidate, Sarah Baker. Texas composer Donald Grantham's Farewell to Gray was commissioned by the United States Military Academy Band in celebration of the Academy's 200th anniversary. Following graduation, the cadets no longer wear the distinctive gray uniform worn throughout matriculation, a significant event in each cadet's life and career. Second-year MM candidate, Alex Mondragon, will conduct. Roshanne Etezady's Anahita draws inspiration from two murals in the Assembly Chamber of the State Capitol Building in Albany, New York, completed by painter William Morris Hunt. One of these murals, The Flight of Night, depicts the Zoroastrian Goddess of the Night, Anahita, driving her chariot westward, fleeing from the rising sun. The first movement, The Flight of Night, is characterized by dramatic, aggressive gestures that are meant to evoke the terrifying beauty of the goddess herself. Movement two, Night Mares, is a scherzo-like movement that refers to the three monstrous horses that pull the chariot across the sky. In the final movement, Sleep and Repose/The Coming of Light, we hear the gentler side of the night, with a tender lullaby that ends with trumpets heralding the dawn. The popular Danzón No. 2 by Arturo Márquez will conclude the program. Russel C. Mikkelson, conductor. Access a digital Concert program before, during or after the concert. No paper programs will be distributed. All events are subject to change. GETTING HERE While the new building for Theatre, Film and Media Arts remains under construction, the North side of the Timashev Music Building remains closed.  Park in the Ohio Union South Garage (open to visitors 24/7), walk North along College Rd. to enter the South doors of the Timashev Music Building. Weigel Auditorium is located on the second floor at the far south end of the building. An open stairway located just inside the south doors leads to the hall. If an elevator is needed, walk through the Music Commons, behind the open stairway to the back hallway. Follow the hallway through the double doors to the elevator. Driving and Parking Instructions 
Weigel Auditorium
School of Music
music@osu.edu
America/New_York
public
Description
The Wind Symphony opens this year's concert season with a diverse program beginning with a classic work by Aaron Copland: An Outdoor Overture, conducted by first-year DMA candidate, Sarah Baker. Texas composer Donald Grantham's Farewell to Gray was commissioned by the United States Military Academy Band in celebration of the Academy's 200th anniversary. Following graduation, the cadets no longer wear the distinctive gray uniform worn throughout matriculation, a significant event in each cadet's life and career. Second-year MM candidate, Alex Mondragon, will conduct.
Roshanne Etezady's Anahita draws inspiration from two murals in the Assembly Chamber of the State Capitol Building in Albany, New York, completed by painter William Morris Hunt. One of these murals, The Flight of Night, depicts the Zoroastrian Goddess of the Night, Anahita, driving her chariot westward, fleeing from the rising sun. The first movement, The Flight of Night, is characterized by dramatic, aggressive gestures that are meant to evoke the terrifying beauty of the goddess herself. Movement two, Night Mares, is a scherzo-like movement that refers to the three monstrous horses that pull the chariot across the sky. In the final movement, Sleep and Repose/The Coming of Light, we hear the gentler side of the night, with a tender lullaby that ends with trumpets heralding the dawn. The popular Danzón No. 2 by Arturo Márquez will conclude the program. Russel C. Mikkelson, conductor.
Access a digital Concert program before, during or after the concert. No paper programs will be distributed.
All events are subject to change.
---
GETTING HERE
While the new building for Theatre, Film and Media Arts remains under construction, the North side of the Timashev Music Building remains closed. 
Park in the Ohio Union South Garage (open to visitors 24/7), walk North along College Rd. to enter the South doors of the Timashev Music Building.
Weigel Auditorium is located on the second floor at the far south end of the building. An open stairway located just inside the south doors leads to the hall.
If an elevator is needed, walk through the Music Commons, behind the open stairway to the back hallway. Follow the hallway through the double doors to the elevator.
Events Filters:
---