Friday, November 22, 2019 - 7:30pm
Mershon Auditorium, 1871 N High St, Columbus 43210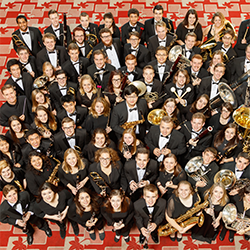 The Symphonic Band and University Band share a concert at Mershon Auditorium, featuring guest composer James M. Stephenson and saxophone soloist Michael Rene Torres.
University Band performs In The Shadow Of Your Mountain, Natalie Moller; Serenade for Wind Band, Derek Bourgeois; The Seal Lullaby, Eric Whitacre; Second Thoughts, James Stephenson; and Different Voices, Rick Kirby.
Symphonic Band selections include Silver Light!, Benjamin Yeo; Bali, Michael Colgrass; Let My Love Be Heard, Jake Runestad; Diversion for Alto Saxophone and Band, Bernhard Heiden/Rogers; Essay for Band, Roger Dickerson; and there are no words, James Stephenson.
Brent Levine, conductor (University Band), Scott A. Jones, conductor (Symphonic Band), TJ Mack and Daniel Farr, guest conductors.
This concert is free and open to the public. No ticket required.
---
Tonight's and Sunday's School of Music concert band and orchestra performances will be held in Mershon Auditorium while construction to Weigel Hall is underway.
Accessibility — Mershon Auditorium does not have an elevator. Main floor accessible seating is available for patrons with limited mobility or those using wheelchairs, and their companions. Current ADA standards limit companion seating to 3 people maximum, so making arrangements in advance and arriving early is preferable whenever possible. To make ADA arrangements, contact Patron Services Manager Helyn Marshall or call 614-688-3890.
A new home for the School of Music
The transformative Ohio State Arts District project includes a renovated and expanded School of Music. This new facility is an investment in our future performers, music educators, conductors and scholars. To learn more, visit go.osu.edu/artsdistrict.