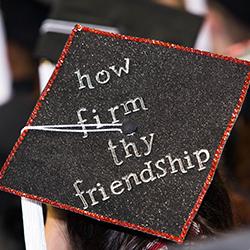 Commencement at The Ohio State University is a festive and joyous occasion at which family and guests are welcome to celebrate the accomplishments of the graduating class. Ohio State will host a modified in-person Spring Commencement for 2021 graduates.
The first in-person commencement at The Ohio State University in more than a year will feature four special guests with a diverse set of experiences. The university will welcome Jamie Dimon, chairman and CEO of JPMorgan Chase, as spring commencement speaker. Joining Dimon as speakers are three pioneers in their fields. U.S. Rep. Joyce Beatty, whose district includes Ohio State, will receive an honorary Doctor of Public Service degree, and veteran NASA astronaut Ellen Ochoa will receive an honorary Doctor of Science degree. Prolific chemical engineer Robert Langer will also receive an honorary Doctor of Science degree from the university. Read more
While the university is working to maintain many of Ohio State's proud traditions, health and safety guidelines mean that certain elements will need to change. The university will make adjustments to provide a memorable celebration that is safe and healthy, including no more than 13,500 attendees in each of two commencement ceremonies to allow for physical distancing. Academic leadership will work with individual colleges and units on their unique commencement-related activities to ensure they follow safe and healthy guidelines.
The university also will celebrate Ohio State's spring, summer and autumn 2020 graduates later this year as part of the summer commencement. Typically held at the Schottenstein Center, summer commencement will be moved to Ohio Stadium to help ensure a safe and healthy experience.
Graduates received an email with instructions on how to reserve tickets for the ceremonies. More information is available at commencement.osu.edu.