Image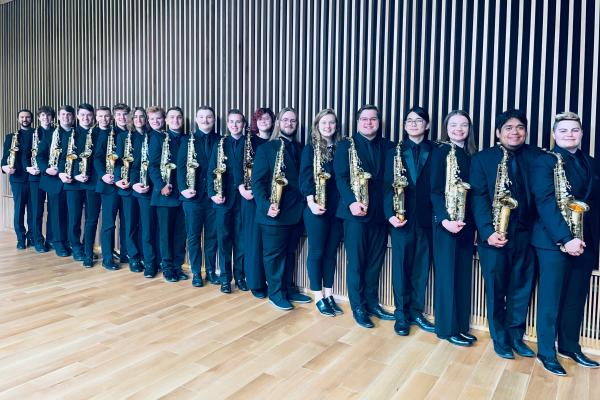 December 1, 2022
8:00PM - 9:30PM
Location
Timashev Recital Hall, 1900 College
Date Range
Add to Calendar
2022-12-01 20:00:00
2022-12-01 21:30:00
Saxophone Studio Recital
Join us for a lively concert showcasing the saxophone ensembles and quartets from the studio of Michael Rene Torres. Music by Alfred Desenclos, Caryl Florio, John Mackey, Marc Melkite, Sammy Nestico and Jean Rivier. All events are subject to change. GETTING HERE While the new building for Theatre, Film and Media Arts remains under construction, the North side of the Timashev Music Building remains closed.  Park in the Ohio Union South Garage (open to visitors 24/7), walk North along College Rd. to enter the South doors of the Timashev Music Building. The Timashev Recital Hall is located on the ground floor, at the far north end of the building. Driving and Parking Instructions 
Timashev Recital Hall, 1900 College
OSU ASC Drupal 8
ascwebservices@osu.edu
America/New_York
public
Date Range
Add to Calendar
2022-12-01 20:00:00
2022-12-01 21:30:00
Saxophone Studio Recital
Join us for a lively concert showcasing the saxophone ensembles and quartets from the studio of Michael Rene Torres. Music by Alfred Desenclos, Caryl Florio, John Mackey, Marc Melkite, Sammy Nestico and Jean Rivier. All events are subject to change. GETTING HERE While the new building for Theatre, Film and Media Arts remains under construction, the North side of the Timashev Music Building remains closed.  Park in the Ohio Union South Garage (open to visitors 24/7), walk North along College Rd. to enter the South doors of the Timashev Music Building. The Timashev Recital Hall is located on the ground floor, at the far north end of the building. Driving and Parking Instructions 
Timashev Recital Hall, 1900 College
School of Music
music@osu.edu
America/New_York
public
Description
Join us for a lively concert showcasing the saxophone ensembles and quartets from the studio of Michael Rene Torres. Music by Alfred Desenclos, Caryl Florio, John Mackey, Marc Melkite, Sammy Nestico and Jean Rivier.
All events are subject to change.
---
GETTING HERE
While the new building for Theatre, Film and Media Arts remains under construction, the North side of the Timashev Music Building remains closed. 
Park in the Ohio Union South Garage (open to visitors 24/7), walk North along College Rd. to enter the South doors of the Timashev Music Building.
The Timashev Recital Hall is located on the ground floor, at the far north end of the building.
Events Filters:
---