Monday, March 18, 2013 -

4:30pm

to

5:30pm
Music/Dance Library, Rm. 205, 18th Ave. Library,* 175 W. 18th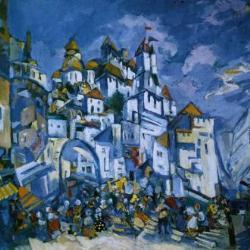 Vladimir Marchenkov, Professor of Aesthetics and Theory, Ohio University

The Archaic Modernist: Rimsky-Korsakov and The City of God

Nikolai Rimsky-Korsakov and Vladimir Belsky's 1905 opera The Legend of the Invisible City of Kitezh and Maiden Fevroniia was a marriage of a medieval Russian legend to the modern operatic stage. The opera's plot is the story of an earthly city transfigured and saved from invaders by a saintly maiden's prayer. The composer himself chuckled that it was his most "mystical" opera but it acquired an earnestly mystical reputation spanning the entire twentieth century. Read more

Vladimir L. Marchenkov is professor of aesthetics and theory at the Ohio University School of Interdisciplinary Arts in Athens, Ohio, USA. His research interests include philosophy of music, theory of myth, Russian philosophy, and Asian aesthetic thought.
Pictured: The Invisible City of Kitezh (1930), Konstantin Korovin
* The building formerly known as Science and Engineering Library (SEL) is now named 18th Avenue Library.