Tuesday, October 15, 2019 -

4:00pm

to

6:00pm
Martin Luther King Jr. Room, Hale Black Cultural Center, 154 W. 12th Ave.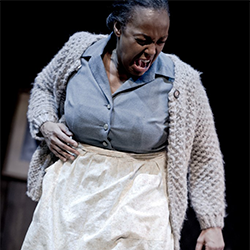 Four Women: The Diasporic Art of Josette Bushell-Mingo
A musical and conversational evening with renowned Afro-British/Swedish artist, activist and cultural advocate Josette Bushell-Mingo, tracing her personal and professional journey as a black stage and film actor, director and vocalist in contemporary Europe. In addition to a public discussion of her diasporic life and work, the event will feature select performances from Bushell-Mingo's solo stage play, Nina: A Story About Me and Nina Simone.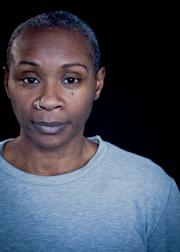 Artist, cultural advocate and social activist Josette Bushell-Mingo's life and work embody mobility and creation within the contemporary Afro-European diaspora. Bushell-Mingo is of Afro-Caribbean and British descent, though she has called Sweden home for the past fifteen years. As an artist, she is an actor, director and singer. In England, she has a well-established stage career, having worked major groups like The Royal Shakespeare Company. In 2006, she was named Officer of the Order of the British Empire.

In Sweden, Bushell-Mingo is one of most sought-after public figures in the contemporary art world, not only as a musical and dramatic artist but also as a culture broker and public intellectual. In her role as advocate, Bushell-Mingo has worked tirelessly to bring marginal voices to the fore of Swedish public culture, particularly in theater. Some of those voices are ethnic and racial minorities. This past year, Bushell-Mingo founded the National Black Theatre of Sweden, the first of its kind. Bushell-Mingo's cultural labor has also been distinguished by her creative work with the deaf community; she fluently signs in both Swedish and English.

Bushell-Mingo is currently head of Acting at Stockholm's University of the Arts. Once again, this is a historic first. She is the first woman and person of African descent to hold the position.
---

This lecture is sponsored by the Global Arts + Humanities Discovery Theme of Migration, Mobility and Immobility. Co-sponsors: Hale Black Cultural Center, Department of African American and African Studies, School of Music, Department of Theater. Lectures in Musicology is co-sponsored by The Ohio State University Libraries.
Lectures are held Mondays at 4 p.m. in the 18th Avenue Library, 175 W. 18th Ave. (Music/Dance Library, second floor, room 205). These events are free and open to the public.
Campus visitors, please use either the Tuttle Park Place Garage or the Ohio Union South Garage. All other garages in the vicinity of the 18th Ave. Library are closed to visitors before 4 p.m.