Sunday, February 16, 2020 - 3:00pm
Epiphany Lutheran Church, 268 Hill Rd. N. 43147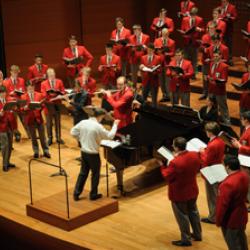 The Ohio State Men's Glee Club and the Singing Buckeyes present a joint concert, "Buckeyes in Song," at Epiphany Lutheran Church, Pickerington.
Purchase tickets online ($10) at www.singingbuckeyes.com -OR- at the door ($15).
Robert J. Ward (MGC) and Chad Wulf (Singing Buckeyes), conductors; Casey L. Cook, collaborative pianist.
---
School of Music ensembles are performing throughout the community while construction to Weigel Hall is underway. We extend our sincerest gratitude to our hosts for this performance.

A new home for the School of Music
The transformative Ohio State Arts District project includes a renovated and expanded School of Music. This new facility is an investment in our future performers, music educators, conductors and scholars. To learn more, visit go.osu.edu/artsdistrict.