Thursday, February 25, 2021 - 8:00pm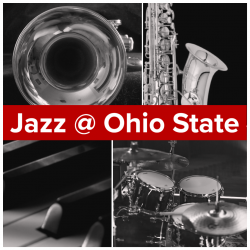 Enjoy an evening of big band music by Horace Silver, Quincy Jones, Sammy Nestico, Duke Ellington, Billy Strayhorn and other jazz greats. Selections include The Jody Grind, Silver/arr. John Clayton; Belly Roll, Quincy Jones/arr. Jones and Nestico; Such Sweet Thunder, Ellington and Strayhorn; Jeannine, Duke Pearson/arr. Jon C. McGahan; Mood Indigo, Ellington/arr. Nestico; Miss Fine, Oliver Nelson; Let The Good Times Roll, Louis Jordan/arr. Gordon Goodwin.
Mike Smith, director.