Monday, February 17, 2020 - 8:00pm
Hughes Hall Auditorium, 1899 College Rd.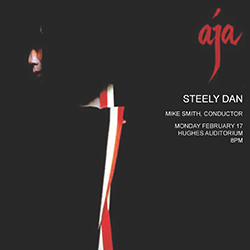 The band will play Aja — Steely Dan's jazz-rock masterpiece — in its entirety. This album has been called "trailblazing," "jazz-rock at its finest" and "a very influential work." Come join us as the Jazz Lab Big Band performs this amazing album!
A pre-concert discussion will be presented at 7:45 p.m. by Mike Smith, director.
This concert is free and open to the public. No ticket required.
Livestream broadcast begins at 7:45 p.m.
---
Many School of Music performances will be held in Hughes Hall Auditorium while construction to Weigel Hall is underway. Hughes Auditorium accommodates a smaller audience and allows entry only during applause. Please plan ahead.
Note that the accessible entrance is located at the North end of the building. For evening and weekend performances, the closest parking is in Arps Garage.

A new home for the School of Music
The transformative Ohio State Arts District project includes a renovated and expanded School of Music. This new facility is an investment in our future performers, music educators, conductors and scholars. To learn more, visit go.osu.edu/artsdistrict.