Image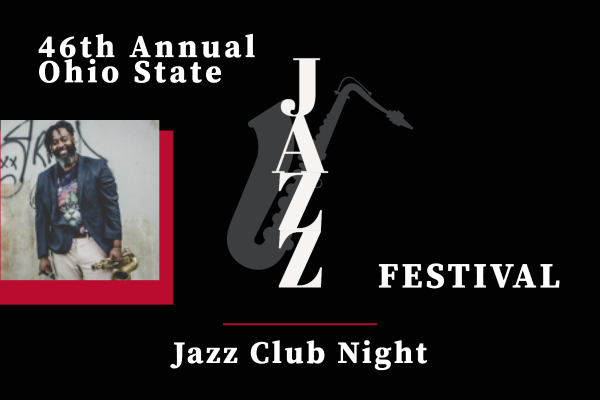 March 22, 2023
8:00PM - 10:00PM
Location
Weigel Auditorium
Date Range
Add to Calendar
2023-03-22 20:00:00
2023-03-22 22:00:00
Jazz Festival: Jazz Club Night with Chris Coles' Gleam Quintet
Sponsored by the Jazz Club at Ohio State, this performance opens the 46th Annual Ohio State Jazz Festival. Chris Coles' GLEAM program features his work, The Love Deamon Song Cycle [pdf]. This event is free and open to the public. No ticket required. Livestream broadcast begins at 8 p.m. Access the digital Concert program before, during or after the performance. No paper programs will be distributed. Chris Coles' Gleam Quintet is a jazz group that turns all the rules of genre on its head. Each member of the group brings their own unique life experiences and musical influences to create an exciting sound that is accessible to all audiences, mature and young alike. Born and raised in Cleveland, Ohio, saxophonist Christopher J. Coles is based in the Greater Akron area. He serves on the faculty of Kent State University, Aurora School of Music and Tri-C Creative Arts Academy. Chris holds a bachelor's degree in performance from Youngstown State University, where he studied extensively with James Umble, Kent Englehardt and David Morgan; and a master's degree in performance from the University of Akron. At the 2015 Banff Workshop for Jazz and Creative Music, Chris had the distinct honor of studying with many influential jazz pioneers, including Vijay Iyer, Mark Turner, Imani Izuri, Tia Fuller, Billy Hart, Ingrid Jensen, Zakir Hussain, Somi, Vosany Terry and Miles Okazaki, among others. Chris was a winner of the 2017 Knight Foundation Arts Challenge in Akron, Ohio for his composition "Nine Lives." "Nine Lives" was written in 2015 in memory of the nine lives lost at the Emanuel African Methodist Episcopal Church in Charleston, South Carolina. This work is about 40 minutes and features other art forms such as dance, animation and spoken word. Chris regularly appears with many local ensembles, including Black Dog Octet, Red Rhinoceros Revival Octet, Bluelight, The Admirables, Sam Blakeslee Large Group and The Stokes Legacy Jazz Orchestra. His own jazz quartet, Gleam, released its debut album in summer 2018. Chris has performed with many notable local and international jazz musicians such as Eddie Baccus Sr., Melvin Burks, Kenny Davis, Glenn Holmes, Bill Ransom, Cecil Rucker, Grammy Award winner Slide Hampton, Ralph Lalama and Allen Vizzutti. Listen to Gleam's most recent release. All events are subject to change. GETTING HERE While the new building for Theatre, Film and Media Arts remains under construction, the North side of the Timashev Music Building remains closed.  Park in the Ohio Union South Garage (open to visitors 24/7), walk North along College Rd. to enter the South doors of the Timashev Music Building. Weigel Auditorium is located on the second floor at the far south end of the building. An open stairway located just inside the south doors leads to the hall. If an elevator is needed, travel through the Music Commons at the south end of the building, to the hallway to the right of the restrooms. Follow the hallway through the double doors to the Weigel Auditorium elevator. Driving and Parking Instructions   
Weigel Auditorium
OSU ASC Drupal 8
ascwebservices@osu.edu
America/New_York
public
Date Range
Add to Calendar
2023-03-22 20:00:00
2023-03-22 22:00:00
Jazz Festival: Jazz Club Night with Chris Coles' Gleam Quintet
Sponsored by the Jazz Club at Ohio State, this performance opens the 46th Annual Ohio State Jazz Festival. Chris Coles' GLEAM program features his work, The Love Deamon Song Cycle [pdf]. This event is free and open to the public. No ticket required. Livestream broadcast begins at 8 p.m. Access the digital Concert program before, during or after the performance. No paper programs will be distributed. Chris Coles' Gleam Quintet is a jazz group that turns all the rules of genre on its head. Each member of the group brings their own unique life experiences and musical influences to create an exciting sound that is accessible to all audiences, mature and young alike. Born and raised in Cleveland, Ohio, saxophonist Christopher J. Coles is based in the Greater Akron area. He serves on the faculty of Kent State University, Aurora School of Music and Tri-C Creative Arts Academy. Chris holds a bachelor's degree in performance from Youngstown State University, where he studied extensively with James Umble, Kent Englehardt and David Morgan; and a master's degree in performance from the University of Akron. At the 2015 Banff Workshop for Jazz and Creative Music, Chris had the distinct honor of studying with many influential jazz pioneers, including Vijay Iyer, Mark Turner, Imani Izuri, Tia Fuller, Billy Hart, Ingrid Jensen, Zakir Hussain, Somi, Vosany Terry and Miles Okazaki, among others. Chris was a winner of the 2017 Knight Foundation Arts Challenge in Akron, Ohio for his composition "Nine Lives." "Nine Lives" was written in 2015 in memory of the nine lives lost at the Emanuel African Methodist Episcopal Church in Charleston, South Carolina. This work is about 40 minutes and features other art forms such as dance, animation and spoken word. Chris regularly appears with many local ensembles, including Black Dog Octet, Red Rhinoceros Revival Octet, Bluelight, The Admirables, Sam Blakeslee Large Group and The Stokes Legacy Jazz Orchestra. His own jazz quartet, Gleam, released its debut album in summer 2018. Chris has performed with many notable local and international jazz musicians such as Eddie Baccus Sr., Melvin Burks, Kenny Davis, Glenn Holmes, Bill Ransom, Cecil Rucker, Grammy Award winner Slide Hampton, Ralph Lalama and Allen Vizzutti. Listen to Gleam's most recent release. All events are subject to change. GETTING HERE While the new building for Theatre, Film and Media Arts remains under construction, the North side of the Timashev Music Building remains closed.  Park in the Ohio Union South Garage (open to visitors 24/7), walk North along College Rd. to enter the South doors of the Timashev Music Building. Weigel Auditorium is located on the second floor at the far south end of the building. An open stairway located just inside the south doors leads to the hall. If an elevator is needed, travel through the Music Commons at the south end of the building, to the hallway to the right of the restrooms. Follow the hallway through the double doors to the Weigel Auditorium elevator. Driving and Parking Instructions   
Weigel Auditorium
School of Music
music@osu.edu
America/New_York
public
Description
Sponsored by the Jazz Club at Ohio State, this performance opens the 46th Annual Ohio State Jazz Festival. Chris Coles' GLEAM program features his work, The Love Deamon Song Cycle [pdf].
This event is free and open to the public. No ticket required.
Livestream broadcast begins at 8 p.m.
Access the digital Concert program before, during or after the performance. No paper programs will be distributed.
Chris Coles' Gleam Quintet is a jazz group that turns all the rules of genre on its head. Each member of the group brings their own unique life experiences and musical influences to create an exciting sound that is accessible to all audiences, mature and young alike.
Born and raised in Cleveland, Ohio, saxophonist Christopher J. Coles is based in the Greater Akron area. He serves on the faculty of Kent State University, Aurora School of Music and Tri-C Creative Arts Academy. Chris holds a bachelor's degree in performance from Youngstown State University, where he studied extensively with James Umble, Kent Englehardt and David Morgan; and a master's degree in performance from the University of Akron. At the 2015 Banff Workshop for Jazz and Creative Music, Chris had the distinct honor of studying with many influential jazz pioneers, including Vijay Iyer, Mark Turner, Imani Izuri, Tia Fuller, Billy Hart, Ingrid Jensen, Zakir Hussain, Somi, Vosany Terry and Miles Okazaki, among others. Chris was a winner of the 2017 Knight Foundation Arts Challenge in Akron, Ohio for his composition "Nine Lives." "Nine Lives" was written in 2015 in memory of the nine lives lost at the Emanuel African Methodist Episcopal Church in Charleston, South Carolina. This work is about 40 minutes and features other art forms such as dance, animation and spoken word.
Chris regularly appears with many local ensembles, including Black Dog Octet, Red Rhinoceros Revival Octet, Bluelight, The Admirables, Sam Blakeslee Large Group and The Stokes Legacy Jazz Orchestra. His own jazz quartet, Gleam, released its debut album in summer 2018. Chris has performed with many notable local and international jazz musicians such as Eddie Baccus Sr., Melvin Burks, Kenny Davis, Glenn Holmes, Bill Ransom, Cecil Rucker, Grammy Award winner Slide Hampton, Ralph Lalama and Allen Vizzutti.
Listen to Gleam's most recent release.
All events are subject to change.
---
GETTING HERE
While the new building for Theatre, Film and Media Arts remains under construction, the North side of the Timashev Music Building remains closed. 
Park in the Ohio Union South Garage (open to visitors 24/7), walk North along College Rd. to enter the South doors of the Timashev Music Building.
Weigel Auditorium is located on the second floor at the far south end of the building. An open stairway located just inside the south doors leads to the hall.
If an elevator is needed, travel through the Music Commons at the south end of the building, to the hallway to the right of the restrooms. Follow the hallway through the double doors to the Weigel Auditorium elevator.
Driving and Parking Instructions 
Events Filters:
---