Wednesday, October 10, 2018 -

11:30am

to

12:25pm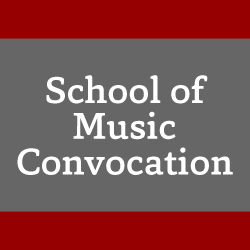 Featuring student solo and chamber performances by Ohio State School of Music students who are chosen by their instructors, spotlighting the "best of the best" undergraduate and graduate students in the school. Wei-Yi Sun, piano soloist; Kelsey Broker, violin and Ben Shaheen, marimba; Dylan Davis, tenor and Ed Bak, piano; Alyssa Powell, clarinet and Jiung Yoon, piano; Ted Clark, trumpet and Wei-Yi Sun, piano. Ensembles include a woodwind quintet (Alex Goad, flute; Hilary Hobbs, oboe; Gaby Valladares, clarinet; Austin Ahlborn, bassoon; Anna Dorey, horn); the Tuba/Euphonium Ensemble performing "Londonderry Air," and the Art Blakey Combo performing Anthony Stanco's arrangement of Herbie Hancock's "Cantaloupe Island."
Attendance (in person) is mandatory for all School of Music undergraduate students.
The Honors Recital is free and open to the public. No ticket required.