Tuesday, April 15, 2014 -

8:00pm

to

9:30pm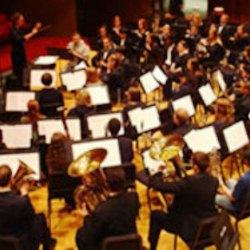 The ensembles present a shared concert. University Band will perform Fanfare and Salutation, Roger Cichy; Old Churches, Michael Colgrass; Melodious Thunk, David Biedenbender; Andrew Lawrence, conductor. Urban Scenes, Andrew Boysen Jr.; Symphonic Suite from "Star Trek," Michael Giacchino/arr. Jay Bocook; Phillip Day, conductor. Lawrence and Day both are master's associates in conducting.
Collegiate Winds selections include Overture for Winds, Charles Carter; Contre Qui, Rose, Morten Lauridsen/arr. H. Robert Reynolds; Rikudim, Jan Van der Roost; and Selections from "West Side Story," Leonard Bernstein/arr. W. J. Duthoit. Conductor Nicholas Enz is a doctoral associate.