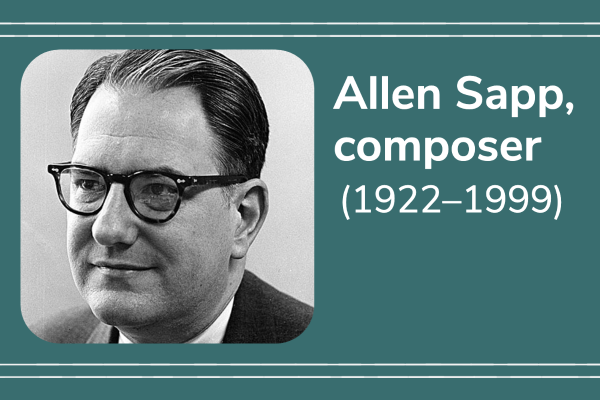 September 26, 2022
8:00PM - 9:30PM
Timashev Recital Hall, 1900 College
Add to Calendar
2022-09-26 20:00:00
2022-09-26 21:30:00
Allen Sapp Centennial Celebration Concert
Come join us for the beginning of the centennial year celebration of Allen Sapp (1922–1999), one of Ohio's most notable composers. Sapp was a student of Aaron Copland, Walter Piston and Nadia Boulanger, and began his career on the faculty of Harvard University in the 1950s. In 1978 he was named Dean of the University of Cincinnati College–Conservatory of Music, and served as professor of composition there through the remainder of his career. The composer of more than 140 works in a wide variety of genres, his compositions were performed by distinguished musicians and orchestras worldwide. We invite you to come hear three of Allen Sapp's compositions performed by School of Music faculty soloists — Katherine Borst Jones, alto flute; Kia-Hui Tan, violin, and Katherine Rohrer, mezzo-soprano: Colloquies V: The Cage of All Bright Knocks for alto flute and piano (1986), a work Sapp composed in homage to his long-time friend and colleague, John Cage. Violin Sonata I (1942), a work dedicated to and premiered by violinist Viviane Bertolami, who would go on to commission and give the premiere of the Violin Concerto of Carlos Chávez a decade later. Moral Maxims: 30 Songs for Thirty Years (1982), a cycle of very brief songs set to epigrams of Rochefoucauld (in English translation), dedicated to the composer's eldest son Christopher in honor of his thirtieth birthday. A reception will follow the concert, with the opportunity to meet the musicians, as well as family and former students of Allen Sapp. This concert is produced by Alan Green, Professor and Head of the Music & Dance Library. Green is the author of Allen Sapp: A Bio-Bibliography and prepared the critical editions that will be used in this performance. This event is free and open to the public. Access a digital Concert program before, during or after the concert. No paper programs will be distributed. All events are subject to change. GETTING HERE While the new building for Theatre, Film and Media Arts remains under construction, the North side of the Timashev Music Building remains closed.  Park in the Ohio Union South Garage (open to visitors 24/7), walk North along College Rd. to enter the South doors of the Timashev Music Building. The Timashev Recital Hall is located on the ground floor, at the far north end of the building. Driving and Parking Instructions 
Timashev Recital Hall, 1900 College
OSU ASC Drupal 8
ascwebservices@osu.edu
America/New_York
public
Date Range
Add to Calendar
2022-09-26 20:00:00
2022-09-26 21:30:00
Allen Sapp Centennial Celebration Concert
Come join us for the beginning of the centennial year celebration of Allen Sapp (1922–1999), one of Ohio's most notable composers. Sapp was a student of Aaron Copland, Walter Piston and Nadia Boulanger, and began his career on the faculty of Harvard University in the 1950s. In 1978 he was named Dean of the University of Cincinnati College–Conservatory of Music, and served as professor of composition there through the remainder of his career. The composer of more than 140 works in a wide variety of genres, his compositions were performed by distinguished musicians and orchestras worldwide. We invite you to come hear three of Allen Sapp's compositions performed by School of Music faculty soloists — Katherine Borst Jones, alto flute; Kia-Hui Tan, violin, and Katherine Rohrer, mezzo-soprano: Colloquies V: The Cage of All Bright Knocks for alto flute and piano (1986), a work Sapp composed in homage to his long-time friend and colleague, John Cage. Violin Sonata I (1942), a work dedicated to and premiered by violinist Viviane Bertolami, who would go on to commission and give the premiere of the Violin Concerto of Carlos Chávez a decade later. Moral Maxims: 30 Songs for Thirty Years (1982), a cycle of very brief songs set to epigrams of Rochefoucauld (in English translation), dedicated to the composer's eldest son Christopher in honor of his thirtieth birthday. A reception will follow the concert, with the opportunity to meet the musicians, as well as family and former students of Allen Sapp. This concert is produced by Alan Green, Professor and Head of the Music & Dance Library. Green is the author of Allen Sapp: A Bio-Bibliography and prepared the critical editions that will be used in this performance. This event is free and open to the public. Access a digital Concert program before, during or after the concert. No paper programs will be distributed. All events are subject to change. GETTING HERE While the new building for Theatre, Film and Media Arts remains under construction, the North side of the Timashev Music Building remains closed.  Park in the Ohio Union South Garage (open to visitors 24/7), walk North along College Rd. to enter the South doors of the Timashev Music Building. The Timashev Recital Hall is located on the ground floor, at the far north end of the building. Driving and Parking Instructions 
Timashev Recital Hall, 1900 College
School of Music
music@osu.edu
America/New_York
public
Come join us for the beginning of the centennial year celebration of Allen Sapp (1922–1999), one of Ohio's most notable composers. Sapp was a student of Aaron Copland, Walter Piston and Nadia Boulanger, and began his career on the faculty of Harvard University in the 1950s. In 1978 he was named Dean of the University of Cincinnati College–Conservatory of Music, and served as professor of composition there through the remainder of his career. The composer of more than 140 works in a wide variety of genres, his compositions were performed by distinguished musicians and orchestras worldwide.
We invite you to come hear three of Allen Sapp's compositions performed by School of Music faculty soloists — Katherine Borst Jones, alto flute; Kia-Hui Tan, violin, and Katherine Rohrer, mezzo-soprano:
Colloquies V: The Cage of All Bright Knocks for alto flute and piano (1986), a work Sapp composed in homage to his long-time friend and colleague, John Cage.
Violin Sonata I (1942), a work dedicated to and premiered by violinist Viviane Bertolami, who would go on to commission and give the premiere of the Violin Concerto of Carlos Chávez a decade later.
Moral Maxims: 30 Songs for Thirty Years (1982), a cycle of very brief songs set to epigrams of Rochefoucauld (in English translation), dedicated to the composer's eldest son Christopher in honor of his thirtieth birthday.
A reception will follow the concert, with the opportunity to meet the musicians, as well as family and former students of Allen Sapp.
This concert is produced by Alan Green, Professor and Head of the Music & Dance Library. Green is the author of Allen Sapp: A Bio-Bibliography and prepared the critical editions that will be used in this performance.
This event is free and open to the public.
Access a digital Concert program before, during or after the concert. No paper programs will be distributed.
All events are subject to change.
---
GETTING HERE
While the new building for Theatre, Film and Media Arts remains under construction, the North side of the Timashev Music Building remains closed. 
Park in the Ohio Union South Garage (open to visitors 24/7), walk North along College Rd. to enter the South doors of the Timashev Music Building.
The Timashev Recital Hall is located on the ground floor, at the far north end of the building.
Events Filters:
---