Ensemble Update for Academic Year 2020–2021
The Ohio State University ensembles are committed to providing meaningful educational and performance experiences amidst the COVID-19 pandemic. Whether instruction is online, in person/socially distanced, or a hybrid, the conducting and studio faculty continue to creatively plan instruction following state and university guidelines for student safety, while simultaneously preparing students for their professional life in music.
We will post updates to the following content as it becomes available. Audition information for orchestras, bands and choirs will be posted in mid-July, if possible.
---
The Program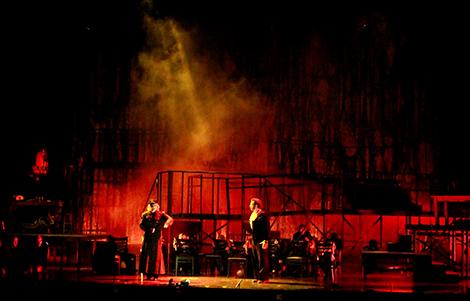 The Ohio State University Opera & Lyric Theatre performs a wide range of repertoire, from Baroque masques to Romantic operas to modern American musicals. The productions utilize students and faculty from the School of Music, the Department of Theatre and the Department of Dance, as well as additional collaborators from the wider professional world. The purpose of the program is to explore the future of the Opera & Lyric Theatre genre by embracing the form's intrinsic interdisciplinary nature all the while focusing on a well-rounded "cross-trained" performer at its core. (Pictured: Sweeney Todd, Mershon Auditorium, 2016.)
Performances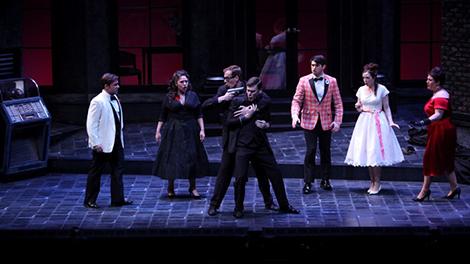 Each year, students perform in two fully-staged Opera & Lyric Theatre works or occasional scenes programs in addition to thematic cabaret evenings. Performances take place in a variety of venues, ranging from the intimate 150-seat Barnett Theatre to the 2,500-seat Mershon Auditorium as well as other stages throughout the city, such as the Urban Arts Space and the historic Lincoln and Garden Theatres. These performances include collaborations with a wide range of musicians such as the Ohio State Symphony Orchestra or chamber and jazz ensembles. (Pictured: Don Giovanni, Drake Performance and Event Center, 2015. Photo by Matt Hazard.)
Auditions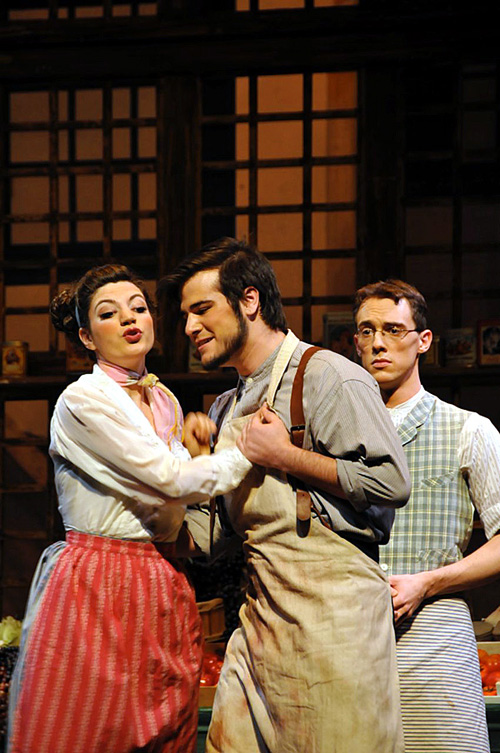 Auditions are open to both undergraduate and graduate students and all have equal opportunity to be cast in principal or secondary roles, the ensemble, or other ancillary participation. Through the Stage Techniques class, students also receive instruction in acting, movement, audition techniques, critical text and score analysis, stage combat and the overall business of the professional world. Guest artists are often invited to hold master classes and provide additional instruction throughout the year. Graduate assistantships are available for students at the master's and doctoral levels. (Pictured: Albert Herring, Mershon Auditorium, 2011.)
Past Productions

2020 Into the Woods (Sondheim) [CANCELLED]
2019 The Marriage of Figaro (W. A. Mozart)
Cendrillon (Pauline Viardot)
CARTOON CABARET! — Animated Musical Cabaret
2018 Candide (Leonard Bernstein)
One Enchanted Evening: A Golden Age Cabaret (Rodgers & Hammerstein)
Opera Americana: Scenes from the American Lyric Theatre – Scenes Program
2017 La rondine (Giacomo Puccini)
Ramala [world première] (Charles Wakefield Cadman)
Sixteen by Sondheim – Stephen Sondheim Cabaret
Der Schauspieldirektor (W. A. Mozart)
2016 Sweeney Todd (Stephen Sondheim)
Dido & Aeneas (Henry Purcell)
Anything Cole's – Cole Porter Cabaret
Hearts & Music – William Finn/Jason Robert Brown Cabaret
2015 Don Giovanni (W. A. Mozart)
The Figaro Project: Scènes de la Beaumarchais – Scenes Program
Moon Over Alabama – Kurt Weill Cabaret
2014 The Rape of Lucretia (Benjamin Britten)
City of Angels (Cy Coleman)
2013 Carmen (Georges Bizet)
Scena Shakespearean: Scenes by the Bard – Scenes Program
2012 Falstaff (Giuseppe Verdi)
The Mystery of Edwin Drood (Rupert Holmes)
2011 Albert Herring (Benjamin Britten)
Side by Side by Mozart and Sondheim – Scenes Program
(Below: Dido & Aeneas, Barnett Theatre, 2016)